6:30 am on Saturday, my friend John arrived at my home to pick me up for our trip to the Grande Cascapedia. The itinerary was simple; depart July 28th 8:30 am from Newark airport to Boston. Then catch a connection at 12:15 pm from Boston to Presque Isle, Maine. From there we would rent a car, drive 3.5 hours to the Gaspe Peninsula in the eastern most reach of the province of Quebec in an area known as the "Maritimes" just north of the province of New Brunswick across the Bay of Chaleur and south of the St. Lawrence.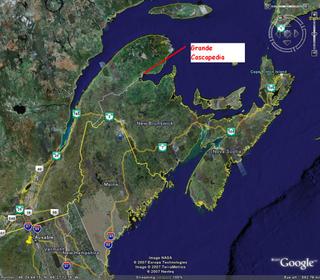 Shot at 2007-08-03
At 6:31 am we were called by Continental Airlines, informing us that our flight to Boston was cancelled and that the next flight they could put us on was at 5 pm. We decided that we would negotiate on the road and try to drive to Boston to catch the only flight to Presque Isle. By the time we had driven to Hartford Connecticut, it had become clear that that although we might make it to Boston on time, there were to high of a probability that things may go awry and the Presque Isle flight could be cancelled, so we made the call to drive instead. And drive, and drive, and drive some more.
At 8:30 pm we pulled into the driveway of the "Société Cascapédia".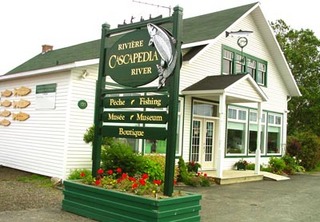 Shot with
H-SPHERE
at 2007-08-03
John had called ahead to his father's camp, "New Dureen "to warn them we would be late (normally they close at 7 pm). Larry, whom works for New Dureen said he would make arrangements to meet us there and make sure all was in order for us. You see, the Society, is the all encompassing organization that manages the river. We would be fishing bright and early the next day, and we needed to get our fishing licenses and beat and guide assignments for the next day.
The trip John had won included three days of fishing with Society guides and three nights at the " Salmon Lodge ". Fishing outside his camp was something new for John and it was all new to me.
Larry as planned met us there with a Society staff member, and we filled out all the necessary paper work for licensees and guide and beat assignments. It was at this point I started to realize that we were not just going fishing. There was a lingo concerning usage of the river that was new to me. There were rules and regulations beyond my normal realm of comprehension. It was clear that to fully understand how things worked on the Cascapedia would take someone a lifetime to understand an attorney or two, perhaps an accountant and most certainly an Internist with a liberal policy of using the prescription pad with a preference for not so mild sedatives.
My understanding of the river and its rules I am sure is misconstrued to a degree, but having knowledge of them is clearly needed to truly appreciate the experience. Everything I am used to when on fishing trip can be thrown out the window. The independence of hoping in a car, picking a spot and fishing where and when one chooses is not part of the Cascapedia experience.
The Society is a group that was formed to regulate and manage conservation and fishing on specifically the Grande Cascapedia. First you have the Canadian government's regulations, and then you have the Province of Quebec's regulations. Next you have the Society that is a triumvirate of the special interest of the 6 private Camp owners, the Micmac native Indians and local residents of the town of Cascapedia.
The private camps each have fishing rights to "Beats "on the river (for the most part the best beats on the river). Some of the beats are on there property some are not. These legal fishing rights were determined well over 100 years ago. Next these camps have a finite amount of "Rods ", the rods are the amount of people that may fish on the camps beats. For instance the camp may have 2 rods and 10 guests. That means only 2 people are fishing and only one person per beat. So if two people go to fish a beat, then one is sitting and one is fishing. Many of the camps have deals amongst themselves where one camp may have guests for a week and the guests want more than 2 rods, so they engage the other camp for the same week at full Price (25 k and up) and now may have use of the camps rods, beats and guides while the camp is really not used at all. This is the norm by the way among the camps, owners and guests.
So how does the average "Joe" fish the Cascapedia? Well that brings us back to the Society. There are approximately 100 plus beats on the river. There is a "lottery" system in effect for those not fortunate enough to be a guest at a camp. As mentioned earlier the best beats belong to the Camps, but when the society was formed, part of the agreement was that the camps would rotate there private beats into the scheduling of beat assignments by the society , so the private water, so to speak is available by luck of the draw in the lottery. So if one was to enter the lottery and win, they would be contacted by the society and told what dates they needed to come and what beats they would be fishing, well in advance to safely plan a trip and make accommodations at the many Inns and Lodges in the surrounding area. In addition there are Beats available on a walk in basis daily.
Be for warned, this is all still relatively expensive. A beat comes with a guides and range from $ 700-1000 per day. There are a few exceptions to this rule. There are several beats way upstream past the "Forks" known as the Wading water on the two major tributaries, " The Salmon Branch " and the "Lake Branch." These beats are available for $ 60 -150 per day and one may fish without a guide. If I understood it correctly, there are about 8 of these beats/rods available out of the 100 plus total beats on the river.
The beats… (a poor scan of the map )
Shot at 2007-08-03
Why, you may ask do I go on with the entire regulatory dribble. I do, because for an individual like myself, this is a difficult transition to make, to accolade ones sense of comfort on a new river system. There is no "Doing ones own thing "You have 2 guides. One is stepping you through the pool and the other is keenly watching your fly for any
potential takers. The guides work 8 hours. You fish 2 beats a day. Usually one beat in the morning (8am -12pm) and one in the afternoon (5pm – Dusk). There is no, lets fish a little longer with the society guides. The am beat is probably assigned to someone else and at exactly 4 hours you are off the river.
This leads us to the fishing. I am a first time visitor to the area and this is my first time Atlantic salmon fishing. From the best I can gather, the run in the Cascapedia ranges from about 2000 – 5000 adult Atlantic salmon. This river is renowned for having what has historically been the "largest fish ". If one wants to join the 30 – 45 lb club, in all likelihood this is the river to do it on. Let me remind you that that is not a lot of fish for a relatively large river (a little bigger than the Beaver kill for you Catskill fisherman) that is 100 plus kilometers long.
There are also Grilse. Grilse are smaller (1st year ) adult Atlantic Salmon, that have prematurely returned. There are theories that they may actually be a different sub species.
They are regarded as a nuisance egg eater as are the resident brookies and sea run brookies all of whom are less than often returned to the river and never intentionally targeted as a trip saver. Often times they are intentionally broken as a potential slot stealer on the 2 fish limit of each day. That brings us to Catch and release. I am a bit baffled that this is not regulated as law with all the conservation efforts. One may purchase a catch and release license or a catch and keep license. If one does keep they pay an additional fee when the keep is reported. Most of the camps have a catch and release policy, but about 10 % of the catch is still kept. Trust me , they are safe with me in the water.
So how does the actual fishing work? It is actually very simple. The fish are NOT eating!
No one really has the answer as to why they take, but take they do. Once one has arrived at a beat, the guide usually sets up at the bottom to middle of a large heavy current riffle running into a pool. The fly selection is based on the weather, the color, the size and the rumored fly du jour going around the river. My guide basically said that the fly tiers tie there fly's based on what is most likely to catch the eye of the angler, the fish that is a taker will take, so it's a game of covering water.
One is going to swing wet fly's ( no weighted fly's, no split shot , sinking tips and lines are allowed but not regarded ) very methodically. First you work your fly from a very short cast at almost 90 degrees but slightly downstream to your longest comfortable cast.
Once you reach that point you stay there, very carefully taking a step downstream and carefully making sure you do not add or take back any line. You work your fly as needed with an up or downstream mend if needed. Then you take another step and repeat, till you reach the point where the current settles in the pool and the action on the swing is counter productive and you start again or your partner sitting on the bank takes their turn with perhaps a different fly to feel out the fish.
It is key that your long cast comes with a caveat. It is the long cast that you can repeat with out having to strip in and haul to recast to that point. If you cant lift your line out of the water and place it down in one motion, you are considered to be wasting time, and also if you have a partner, cutting into their fishing time. If and when I go back I need very much so to improve my ability to cast long and repeat with out and delay. Without the long cast you are not covering as much water and drastically reducing your chances of catching a fish.
The other method of fishing is bombers. They are very large wulffesque type dry fly's.
They are typically used and also swung like the wet fly's but often in the less turbid part of a run. Also they are used to try and stimulate a fish that has been sighted and has refused the wet fly.
The plan was to fish 3 days. We actually fished 4 days. We found out on day three that the wading water was available for Wednesday, and as we were no longer beholden to the airlines and were both given passes by our respective wives, we each paid $ 140.00 for a day of fishing, sans the guides.
Here is how it went. Day one we fished two beats. On the first beat, 7am – exactly 11 am I had a "Sea Trout" take a shot at my wet fly at the very end of the swing, but missed the hook up. John, saw one salmon moving upstream.
On the second beat, planned to be 5pm – dusk on a canoe designed specifically for this river in the deeper un wadeable pools, we had nothing but harsh wind and a rising, off color river that had caught up to this section now and rendered it unfishable. The guides placated us with a 1 hour boat ride, and we were on our way back to the Salmon Lodge by 6:30 pm.
A disappointing first day. These guides I must say, were clearly not interested in at least pretending as one of the first comments one made in the morning was "we are not going to catch anything today" Faking it, was not part of the program.
That night we had a wonderful dinner at the Salmon Lodge. There is clearly no lack of wine and good food with over the top service. This is clearly a big part of the experience and one will not be disappointed with integral part of the Cascapedia experience.
The next day our guide du jour ( Eddie ) met us at 6 am at our lodge for the long drive to a beat known as Alder Island way up stream on the Lake Branch. The drive up to this beat was about 45 miles of which the first 30 or so was paved. From that point it was all dirt roads that were primarily used for reaching these beats and the logging camps. As we traversed the road we were pleasantly surprised by a black bear in the 300 lb class. We must have startled him as he crossed and ran across our path and high tailed it into the woods, unfortunately before we could get out the camera equipment.
Our guide Eddie was flying solo as there were some scheduling issues at the society so outside of the normal tradition we would have to suffer having only one guide. He let us know, because both beats were way upstream, there would be no mid day 4 hour break, and we would fish our first beat, drive to beat # 2 and take a canoe, but would not be fishing late in the day. I have a feeling however if the fishing had been more promising he would have stayed.
That morning was a perfect fishing day by all international standards. The upper river was clearing, it was vacillating from drizzle to rain and for me it was much smaller water allowing me and my short cast, to cover the entire grid of the fishable area.
John was very concerned that I catch a fish, and as the gentleman he is, really wanted to sit out and let me fish till I hooked up. He insisted I run the pool first. In fact he wanted to let me take a second crack at it, but I declined his generosity. After about 10 casts as I watched from the bank, I suddenly heard John explicitly pronounce "oh Shit!"(In remorse that the Novice did not get the first crack) and with that his rod was bent.
This run was fished while stepping down a brush lined bank and roll casting across 20 foot wide riffley run that had an open large back eddy on the other side. John would have to cross the fast water and fight the fish. I have the lions share of the battle on the video camera, unfortunately upon return home my video camera as it has before has become schizophrenic and until further notice there will be no video included in this report.
It was a beautiful 14 lb salmon. Small by this rivers standard, but the first one I have had the privilege of inspecting up close.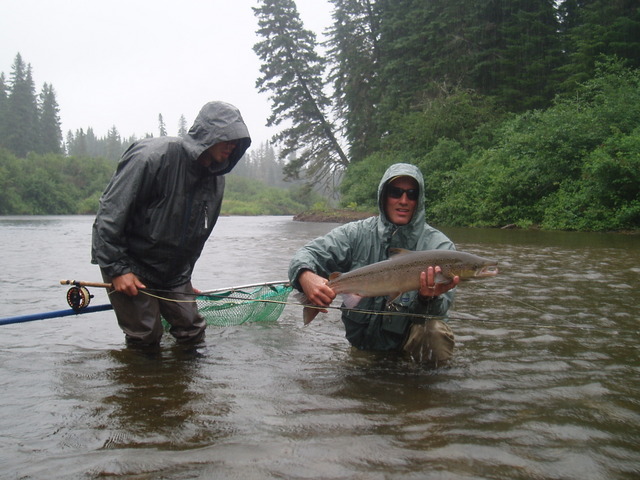 Shot with
u30D,S410D,u410D
at 2007-08-03
As pleased as John was to have broken the skunk, he genuinely was upset that I did not get the fish, and insisted he would not fish till I broke my streak. It was now about 10 pm and for the next 2 hours I swept this run about 6 times. It was 11:50 and John suggested I put on a Silver Rat , a fly with a reputation for attracting fish so well that certain camps have declared it off limits for there guests because it makes fishing to "easy."
Clearly there were fish here. John had caught one and in the past two hours 3 or 4 had fully breached at the tail out. On about my 5th step down and swing the fly moved form the back eddy and swung into the apposing seam. In what seemed like slow motion the water began to boil as I felt an ever so subtle movement on the end of line. As I lifted my rod the boil turned into a rumble, my rod bent and the fish was hooked.
Now I needed to cross the current to the landing pad. It was fast and about 3-4 feet deep. John is about 6 foot three and I am 5 foot ten. I precariously began to cross with my rod high in the air, doing my best not to stumble on the greased bowling ball sized substrata.
I kept a tight line as I crossed; reeling into the fish that still had not made a major run and held his general position. I made the crossing safely turned to face the fish and as I mentally prepared for the battle, the line went slack; I heard John let out a gregarious expletive from the bank, my heart sank and the game was over.
The guide and John assured me that I had not done a thing wrong, an unsolicited consolation well needed and received.
So here we are at a pool that clearly had salmon in it. Salmon that were willing to co-operate. The size of the pool accommodated my limited casting skills. The water was perfect and the sky was overcast. Eddie than announced it was 12: 15 and we had overstayed our welcome. It was time to move to the next beat. This broke my heart more than loosing the fish.
For the next day and a half we would visit and fish three more pools with our guides.
John had two fish apparently take a peek at his fly that the spotter had seen, but no takes. I had one additional hard pull with no hook up.
One pool we fished was loaded with brook trout. I quickly accommodated my swing to a pleasing enough rhythm that afforded me 7 of these little fish, as I needed something to satiate my otherwise fishless trip. I believe this annoyed the guide, but I can live with myself.
Shot with
u30D,S410D,u410D
at 2007-08-03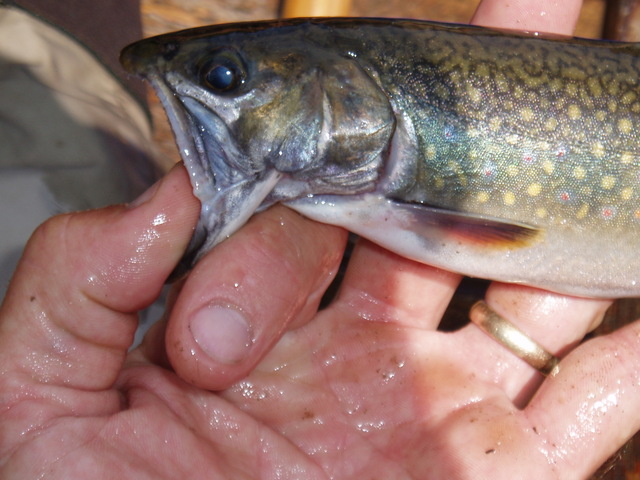 Shot with
u30D,S410D,u410D
at 2007-08-03
The next day as I mentioned before, we had secured the wading water. Once again we would traverse the dirt logging trail and this time Mother Nature would reward us with a few moments of driving tangent with a moose along the road. This time I got the video out and should have a few moments of footage, we will all have to wait to see it till the folks at cannon can repair my camcorder. We would fish all day with no guides. Our two respective beats were adjacent and we each had three pools to work. We set up camp in the middle of the tow areas that covered about 4 miles of water. We spent the first part of the day alternating fishing on the middle pool and than decided that to get our maximum time in we would have to split up and separate so we could fish straight through to maximize time fishing in the water.
I went upstream and John down. I settled into an area known as the " Slide " pool, I assume because the opposite bank was about 100 feet high area about ¼ mile long that seemed to have been eroding via a never ending land slide. After about 2 hours I was ready to high tail it back to meet John. After looking through my selection I decided to pick the ugliest fly I could find. It was a giant bomber that had an orange spun deer hair body with beige wings. On my first swing the water erupted as a large salmon came flying across the fast water. Alas he missed. It was enough to keep me fixed and dilated for the next two hours breaching the agreement I had made with John to meet him at 3 pm. At 5 pm we met back up and I shared my tale of another lost opportunity.
As we drove back to New Dureen, that luckily happened to be guestless this week and we had moved in to the night before as we had used up our stay at the Salmon Lodge, the price at New Dureen was even cheaper as John's family are owners of this camp.
We decided to eat dinner pack up and leave as we had already used up an extra day and night than already expected and if we drove straight threw we would please the Wife god and all would be at peace in our respective universes.
We hit the road and after only one quick nap from 4am – 5:30 am we continued on and made it to my driveway by about 10 am Thursday morning.
I certainly wish I had fishier tales to tell. However it was more than a treat to stay on the Cascapedia and learn the ways and culture of the river. It is steeped in History and it was a privilege to fish and experience of staying in a camp with hospitality that was typically reserved for the likes of Lee Wulff, Hoagy Carmichael, Bing Crosby, Ted Williams and President Jimmy Carter to name a few, all of whom's names are in the guest book of the Cascapedia camps like New Dureen and the Salmon Lodge.
I will fish for Atlantic salmon again, I am not sure when or where, but I will be a little more prepared and a little wiser for the wear.
Tight Lines,
- Ralph-
A few more pics….
The Canoe..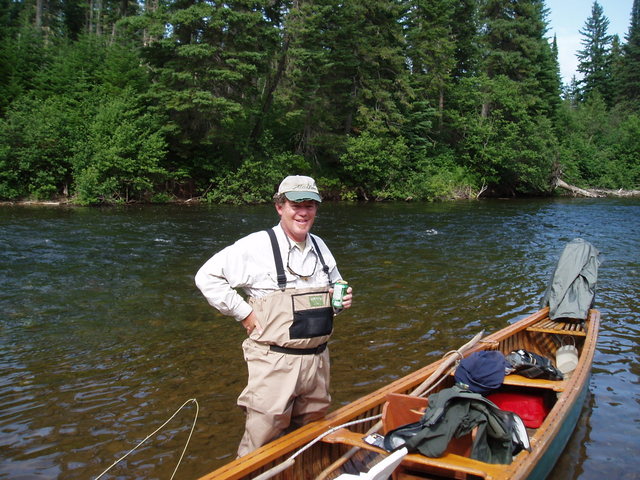 Shot with
u30D,S410D,u410D
at 2007-08-03
The living room at the Salmon Lodge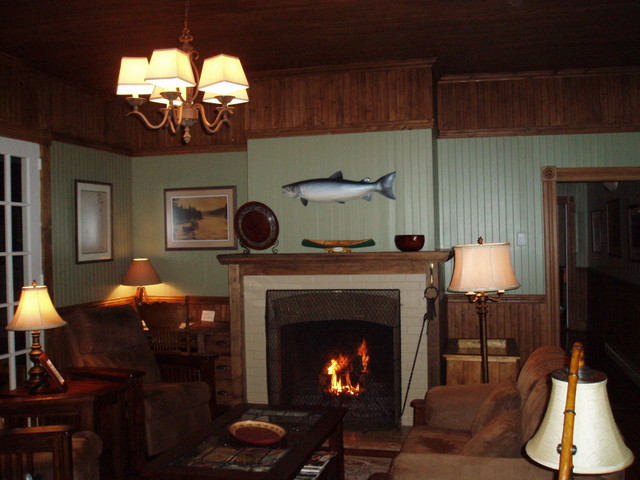 Shot with
u30D,S410D,u410D
at 2007-08-03
New Dureen Camp ( camp haha)
Shot with
u30D,S410D,u410D
at 2007-08-03
Ok, it's a little fuzzy, but I did get one Atlantic Salmon!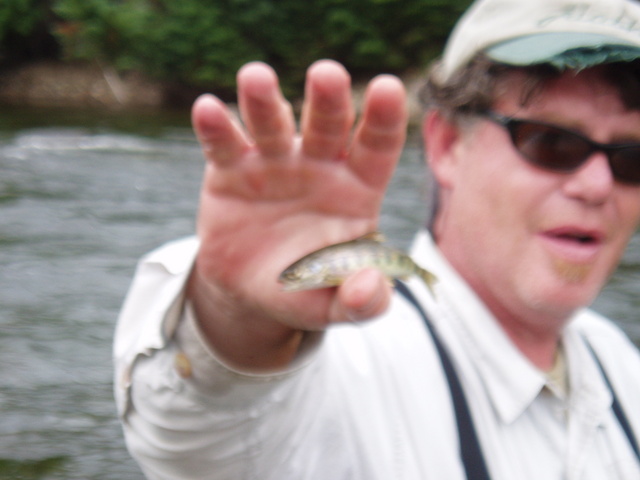 Shot with
u30D,S410D,u410D
at 2007-08-03
Last edited: