Well, I've been back from my Montana adventure for about a week now and finally got around to writing up my big trip. I apologize for my cross post if you happen to also read the other NJ based fishing site, but there were kind folks on both sites that gave me advice while I was planning this trip.
I started playing with the idea of this trip about a year ago, but didn't get serious about it until this summer. I couldn't convince any fishing buddies to join me, so I decided to do the trip solo. I didn't want to waste the opportunity while I had the time off. I didn't really know I was going until about a week before I left. In that week I did as much research as I could on this site (Thanks Skipper and Arron!), reading guide books, and using other internet resources. I also tied flies like a mad man. I tied hoppers, beetles, ants, stimulators, midges, tan EHC, rubber leg stoneflies, sow bugs, GRHE, and big black wooly buggers and zoo cougars, my new favorite streamer.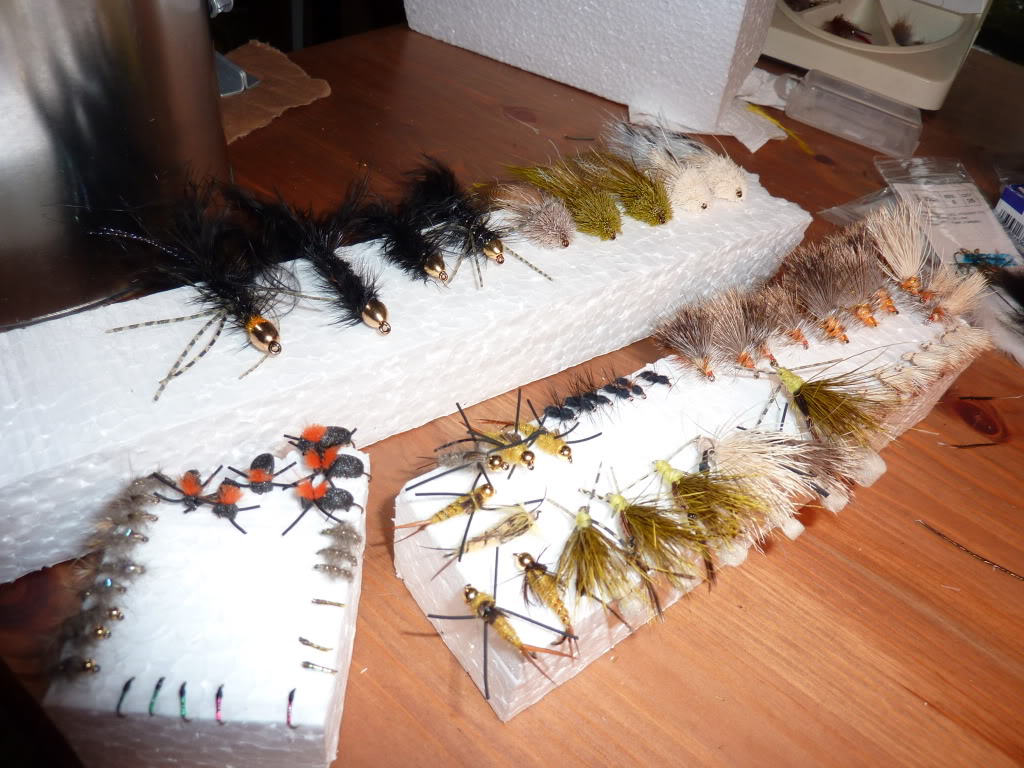 I did the trip with a reasonable budget. I camped as much as I could, but got a room every few nights so I could shower up. My first stop after flying into Bozeman, was the Bozeman Backpacker's Hostel – it's a great place to stay on the cheap - $20 for a bunk or $40 for a private room. Plus there's a full kitchen to save you some dining out money.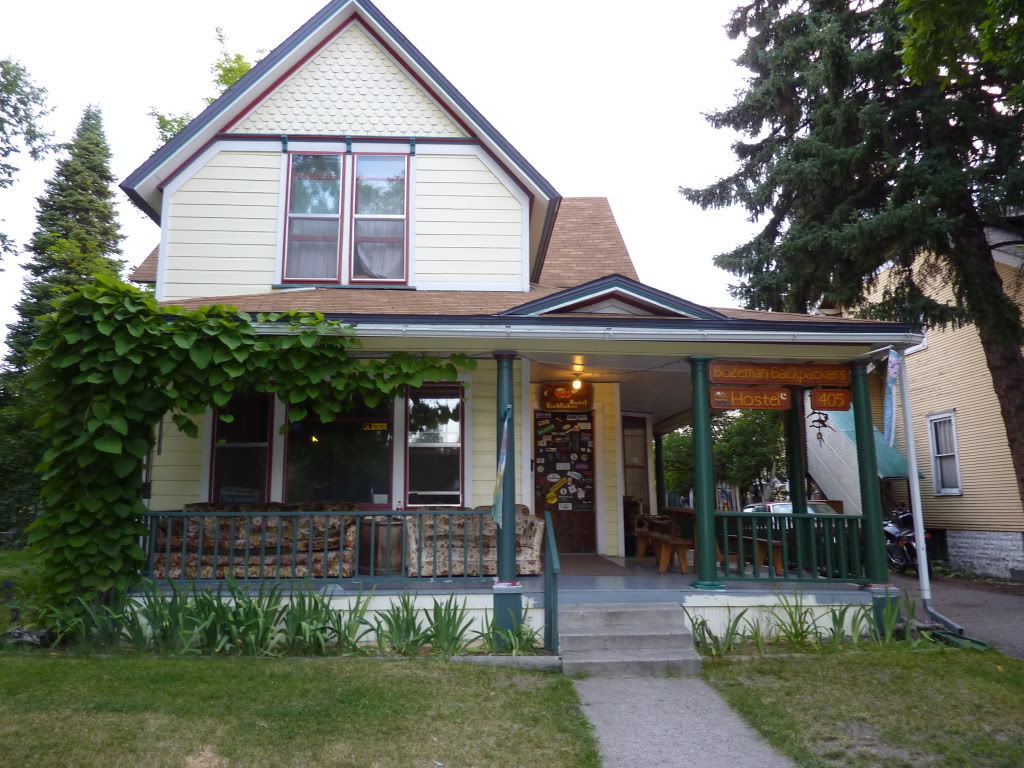 After stopping at a couple of fly shops in town, I hit the Gallatin in the Canyon area, about half way between four-corners and Big Sky.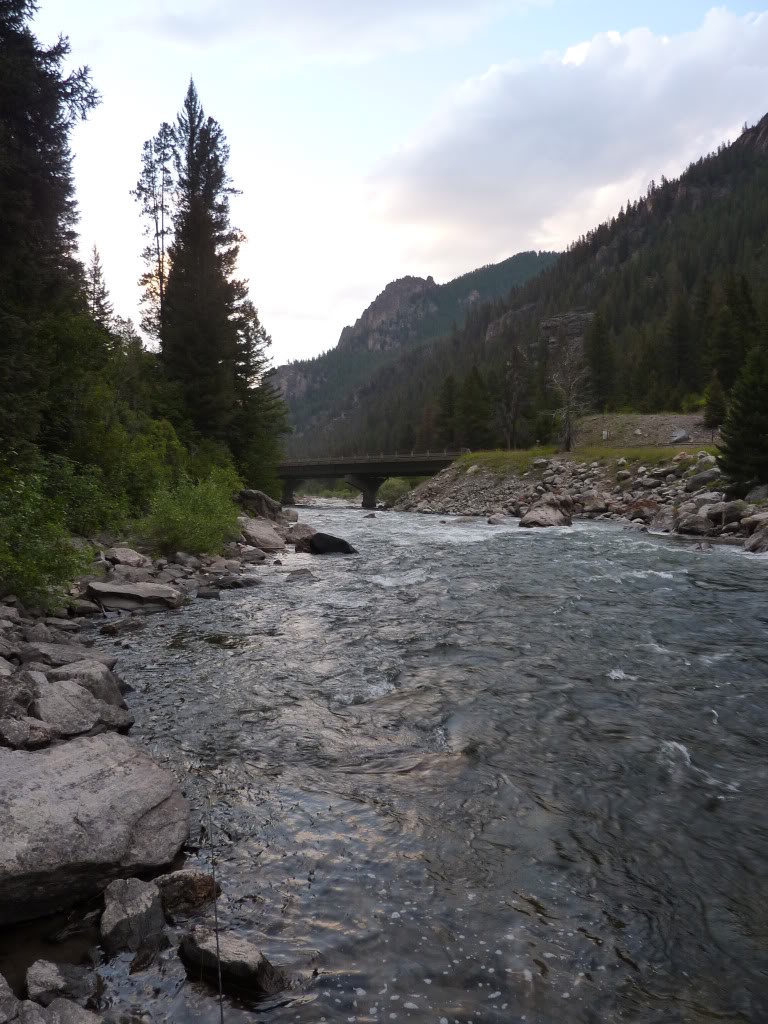 The water was raging! I was told later that it was higher than normal, but I can imagine that even at lower levels it would be fast, deep, and frothing. One look at that stream and I was glad that I packed a folding wading staff and a spikes for my new Chota "rock lock" boots. I still had to put the spikes in, but figured that wouldn't be a problem. 20 minutes of struggling, and I didn't have one spike in the boots. Turns out that the replacement spikes that Chota sells don't fit their new "rock lock" boots. But with only three hours of light left in the day, I wasn't going to be waylaid by incompatible hardware. So I fished the Gallatin with no spikes, almost broke my neck, but ended up with 6 rainbows including my first MT trout!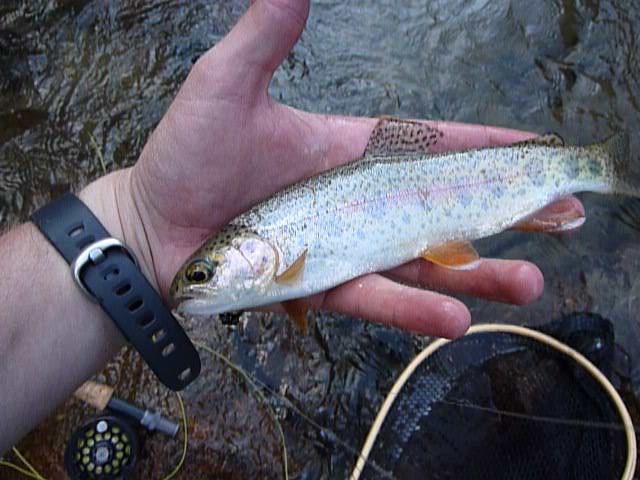 All of the fish were less than 12 inches. I started indicator nymphing, but had a lot of trouble getting my flies down in the main current. All of my fish were caught on nymphs or stimulators fished in the seams and pocket water off to the side of the main current. The Gallatin in the canyon is a gorgeous place to fish with steep cliffs and peaks coming right down to the stream. I found it a difficult place to wade and fish, and the size of the fish weren't very rewarding. I wouldn't spend a lot of time there next time. However, I later learned that the river further upstream where it runs through Yellowstone National Park (YNP) is much different water, and I would like to give that a try on my next trip.
My next stop was the Yellowstone River south of Livingston in the aptly named Paradise Valley. This area was the highlight of the cross-country trip I made about 12 years ago, though I didn't have a chance to stop and fish at the time.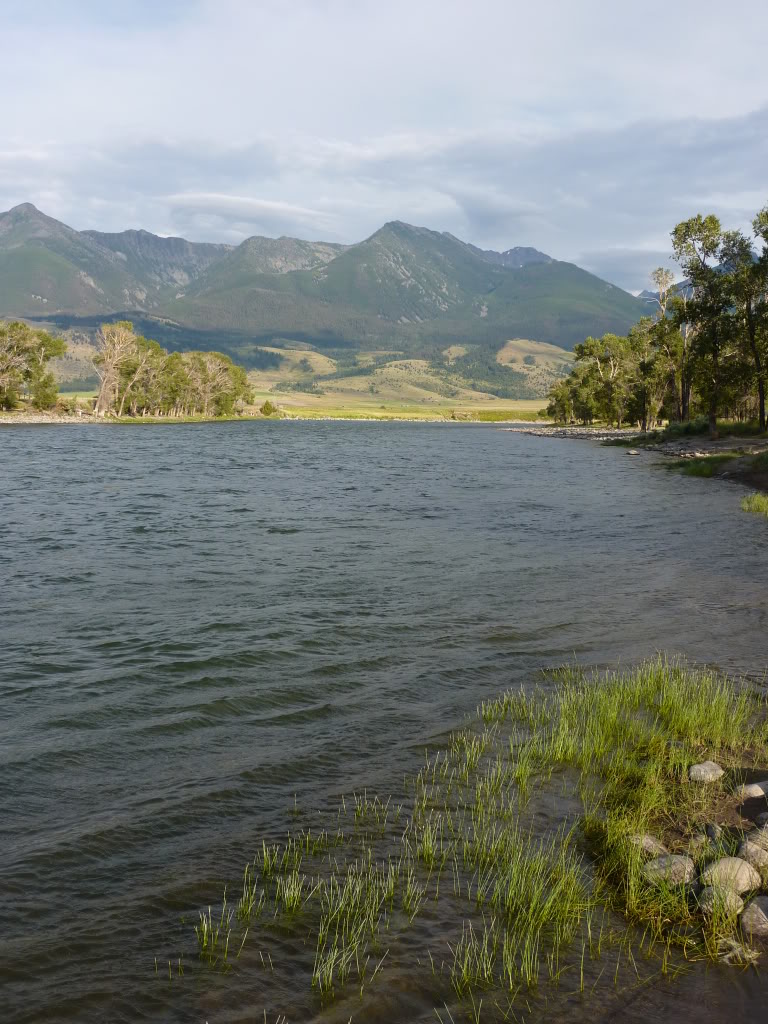 The Yellowstone is a classic big river. Lots of choppy runs, riffles, side channels, and great bank water to be fished. However, my experience was that this river is best fished from a boat, and next time I would not spend so much time trying to wade/bank fish this water. I ended up having success both indicator nymphing, and fishing hoppers along the banks. On my second day there I caught browns, rainbows, and my first Yellowstone cutthroat!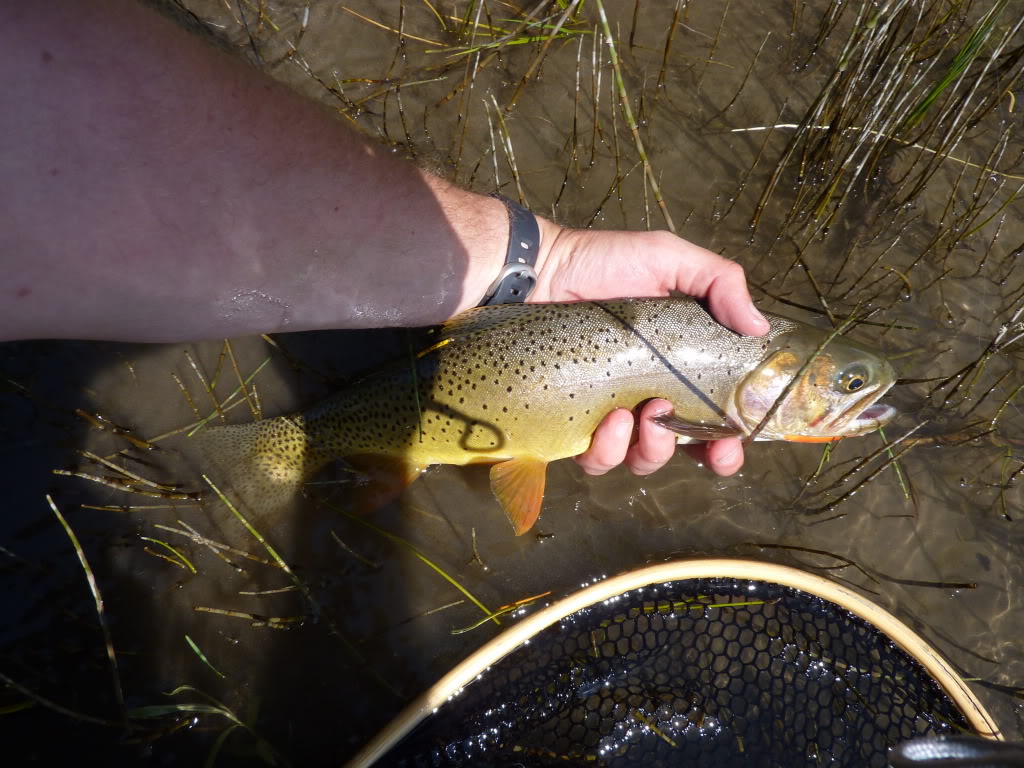 For some reason these cuts seemed to like my ugly foam hoppers over the ones I bought at the fly shop.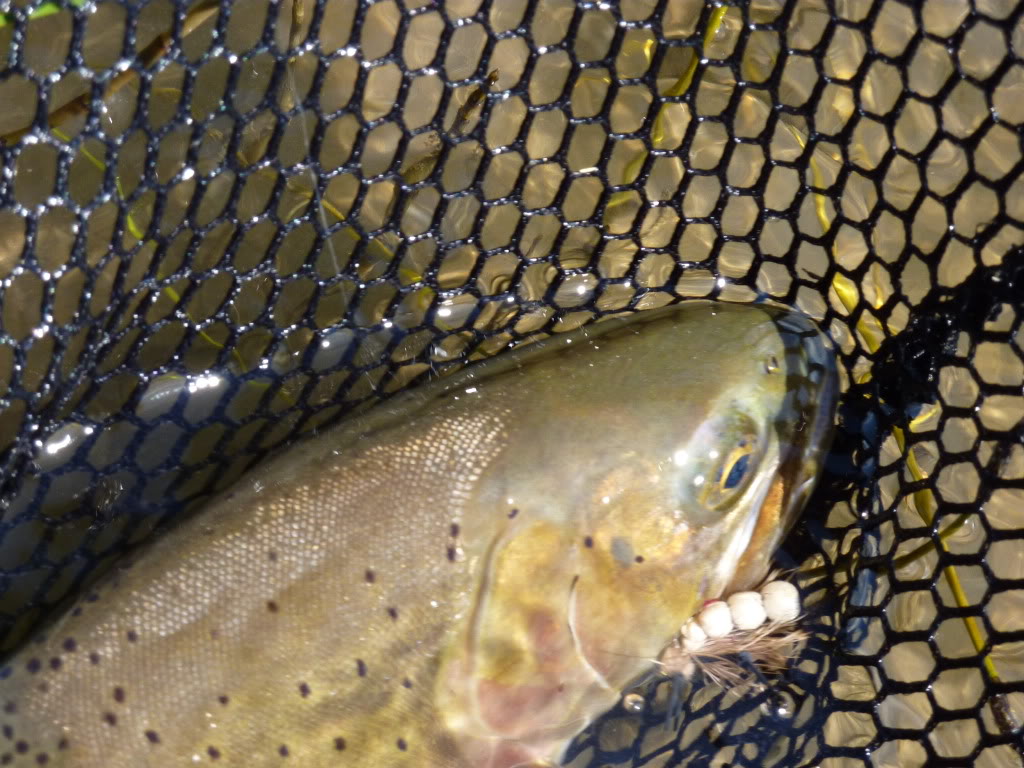 Of course I also caught my share of the much maligned Montana Whitefish!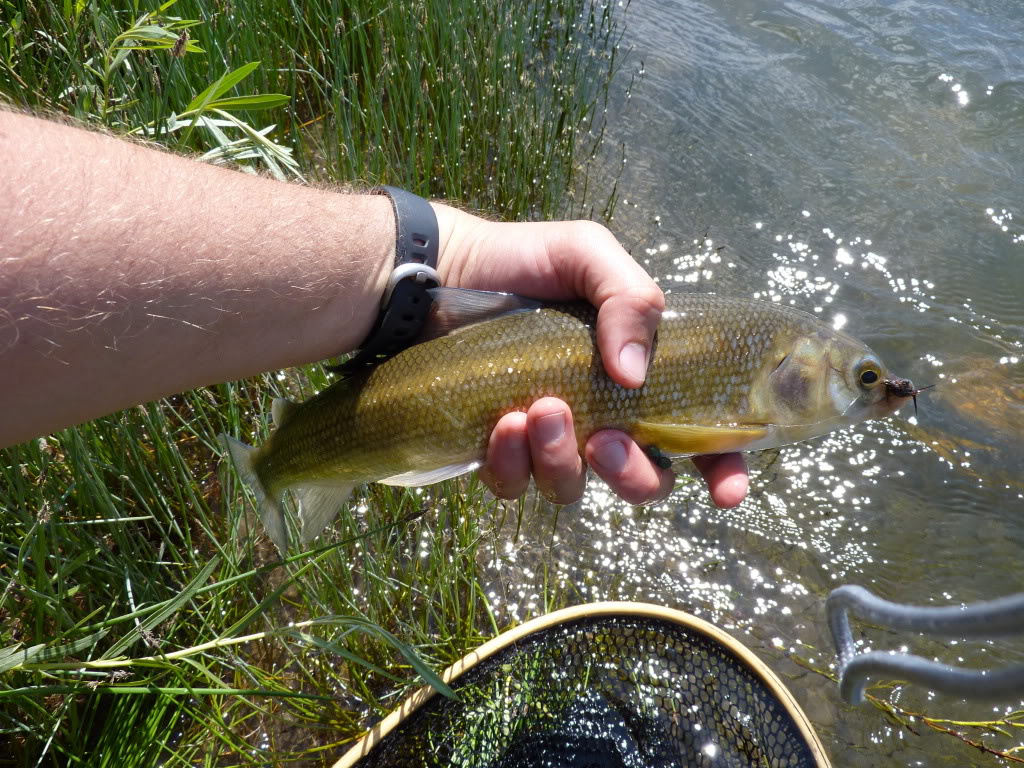 I spent three days fishing the Yellowstone and camped right on the bank at one of the fishing access points. Seven bucks a night, and you can't beat the location.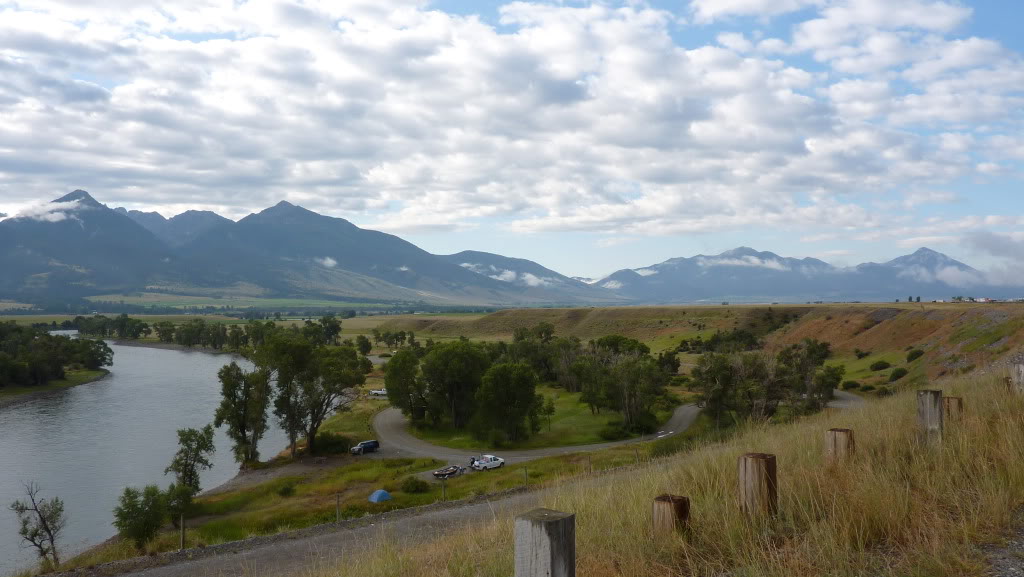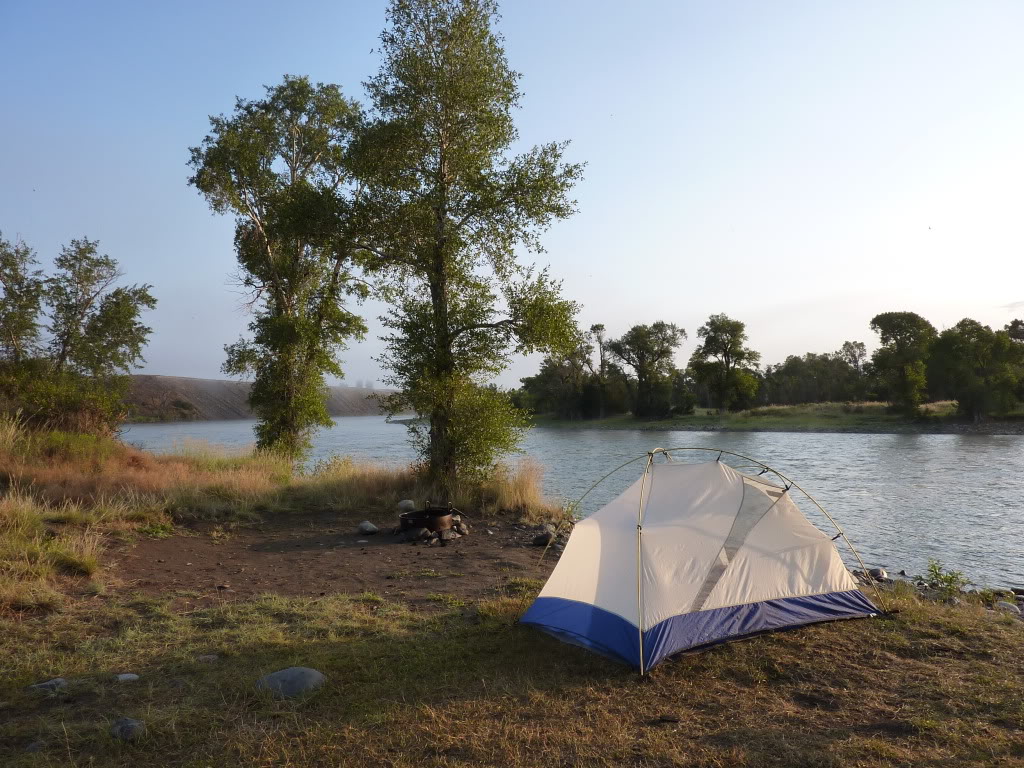 One night I stumbled on a bar/restaurant/cabin rental called the Pine Creek Lodge. If you're in the area, do yourself a favor and stop in for a meal, especially on a Thursday – Saturday. Friendly folks, great food, and live music. The night I was there musicians had come from the whole area for a bluegrass jam, and the dance floor was jumping with beautiful women in cowboy hats. Not a bad way to pass an evening.

One afternoon on the Yellowstone, I was distracted from my indicator by an osprey calling from above. I look up to find an osprey loaded down with a heavy fish, and a mature bald eagle, diving and swatting at it. Pass after pass the eagle made trying to get the osprey to release the fish. The osprey couldn't maneuver well with the fish but held on and kept calling. Then the cavalry arrived as the ospreys mate swooped in and started diving at the eagle. It was a like a fighter jet dogfight! The mate drove the eagle away, diving and swatting at the larger bird. With each pass, the eagle would flip upside down and present its talons to the approaching osprey. Its no wonder Ben Franklin didn't want those thievin' eagles to represent our country!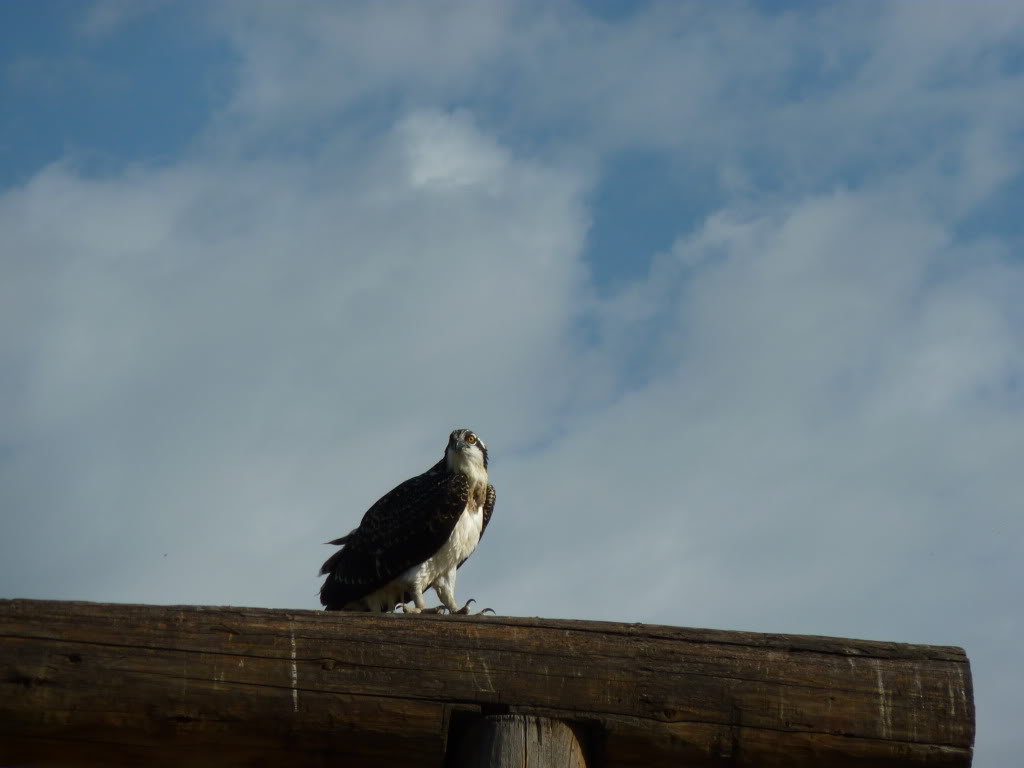 My last day on the Yellowstone was a float trip that I arranged out of the Greater Yellowstone Fly Fishers Shop, outside of Bozeman. The shop was helpful and professional, and the guide was good, but I was very disappointed by the length of the trip. 6 hours on the water is not a full day.
Fished hoppers along the banks and I have to admit to missing many fish. The heartbreaker was huge 20"+ brown that took my hopper in a side channel just upstream from strainer. The fish drifted down one side of the tree and the boat on the other and that was that.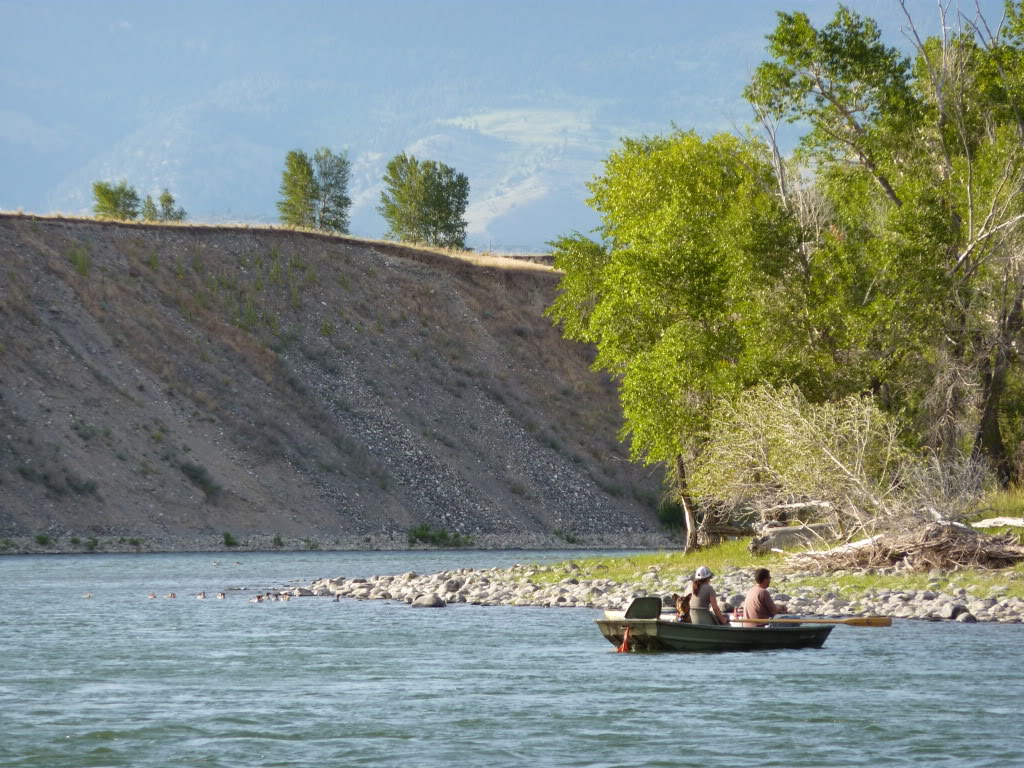 Back to the Bozeman hostel for a good night's sleep and then got an early start out to the Madison. The advice I had was to concentrate on the area below Quake lake. After a brief stop at the Slide Inn, I fished the bulk of the day at the Three Dollar Bridge access. This was my favorite water of the trip. Lots of structure, lots of pockets, lots of big fish!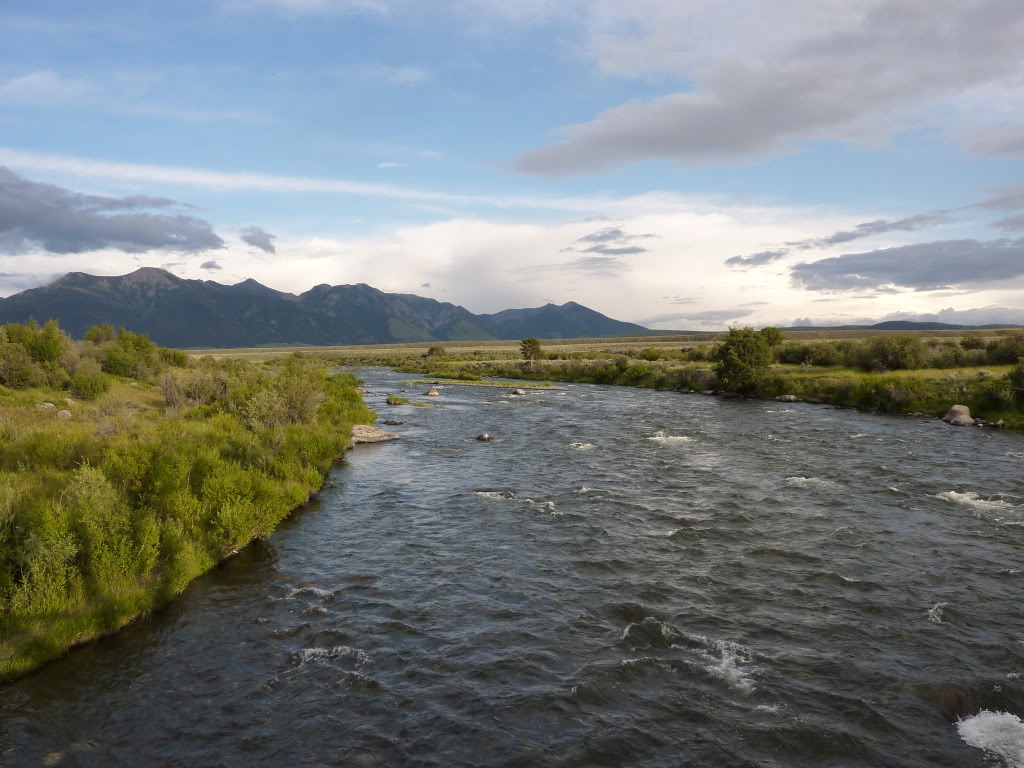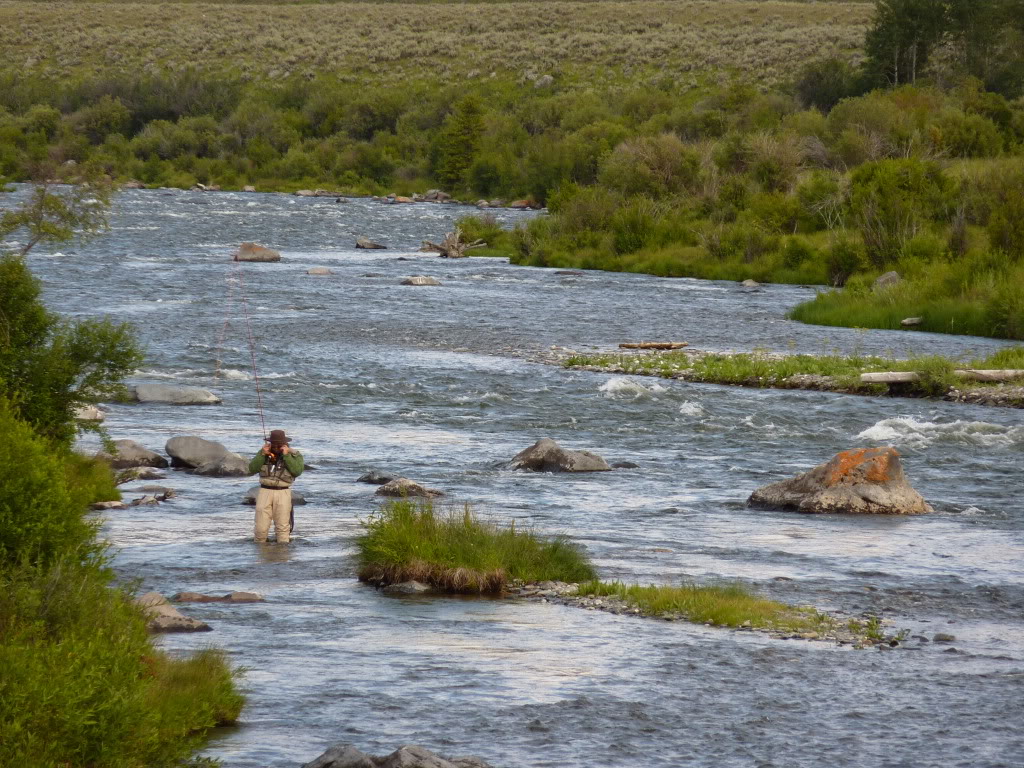 Had good results indicator nymphing with zebra midges, san juan worms, and wet ants. Picked up a couple of nice fat 16" rainbows and then switched to drifting terrestrials and attractors along the banks with good success. Had another big fat brownie take my hopper, but I he threw the hook before I could land him.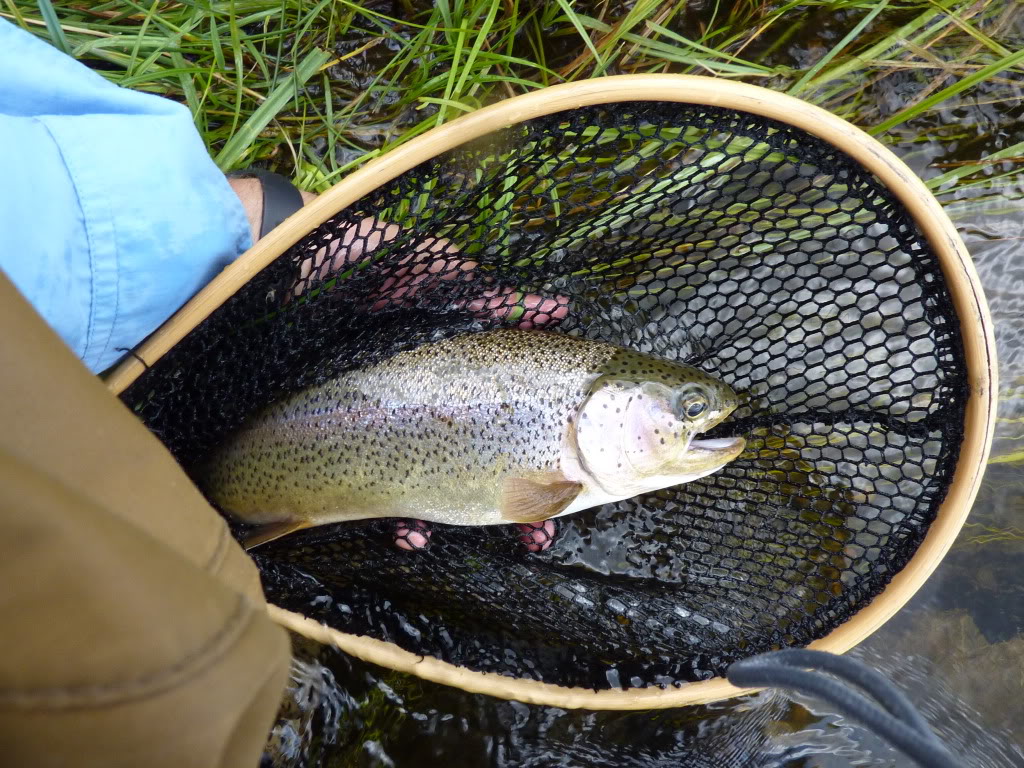 A big storm rolled in mid-afternoon and chased everyone off the river except for me and one other brave soul. The strategy paid off as the surface action turned on as soon as the storm had rolled through, with PEDs hatching and the fish looking up along the banks.
Camped out at a cheap Forest Service site and met another wandering fisherman who was up from Utah and trying to hit all of the great MT streams before his money ran out and he had to head home. We traded fish stories over beers and a campfire – he was surprised to hear of the great fishing back east.
The next morning it was back to fishing the Madison, this time further upstream. The river here was faster and strewn with mid-stream boulders and lots of white water. I managed a few fish on nymphs and stimulators, but in the end preferred the gentler water downstream.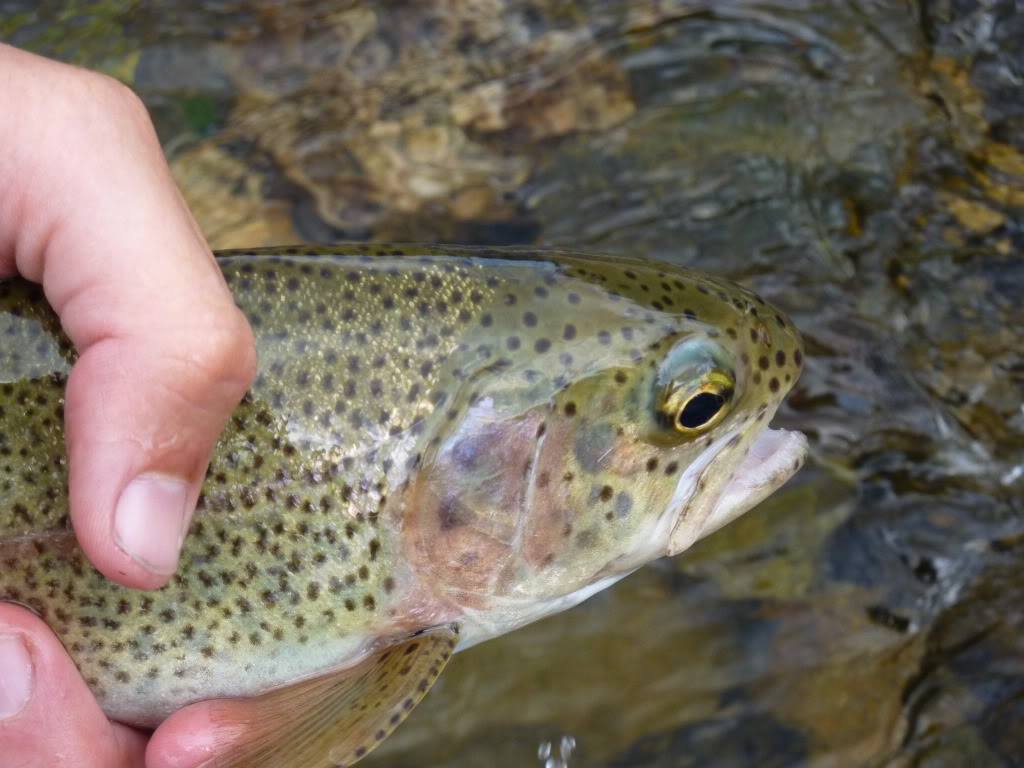 Last edited: