Destination - Trout Hunter, Island Park, Idaho
Sunday, June 5, 2005 - My dad picked me up dark and early and we headed to the airport where we met up with my Uncle Roger and BS'd until it was time to board the plane. The sadness started to settle in because as you can imagine, leaving from the beautiful town of Newark, NJ was quite painful
. The plane ride was long and uneventful (with the exception of the lady behind me who decided to have a panic attack in her sleep) but not too bad. I guess I could have watched the Clint Eastwood / Hillary Swank movie, but the previews didn't interest me. I had my laptop with me so I popped in, Goodfella's, one of my all time favorites! I tried getting the air waitress to get me a large diet coke, popcorn, and twizlers, but she could only offer me a two pack of oreo's, a few crackers, and a diet coke. They sure do know how to skimp on the snacks, don't they!
We arrived in Salt Lake City, Utah, on time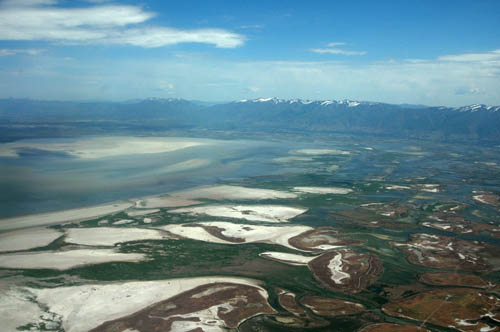 and met up with another one my my uncles. We then immediately jumped onto our second flight of the day which was only an additional 35 minutes or so. Arriving in Idaho Falls, we were greeted by Linda B, our shuttle service. She kept us interested throughout the 1hr and 10min ride into Island Park.
Once there, Rich (partial owner) greated us and took us to our rooms where we settled in. It looked like it just finished raining and the clouds lightend up for a little while and the sun came out.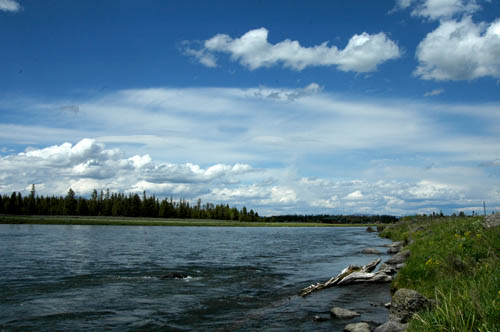 The weather here changes drastically within minutes. Dropping 20 degrees at any given time didn't appear to be out of the usual. A few hours later, it looked like we were in for another dousing.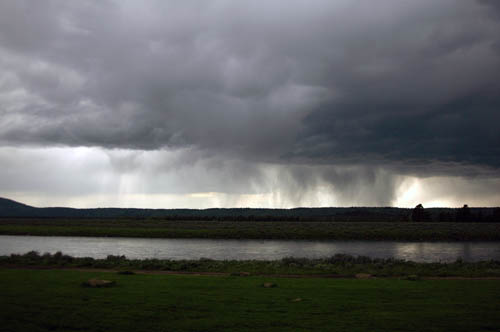 [multipage=Monday, June 6, 2005]Monday, June 6, 2005 - Early morning, the temp was in the 30's (just for the record, every morning was in the 30's
). My dad and I hooked up with our first guide, Travis, while my 2 uncles fished with another guide, also named Travis (TravisA & TravisB from here), and floated a different stretch of the river. Before setting sail, I asked TravisA that he follow a few of my preferences. See, every guide I've floated with out west tended to hug the banks. That irks me to no end because I like to cast, so I asked him to stay at least 30-35 feet away from the banks at all times. He complied most of the time but at times we did find ourselves 6-10 feet from the bank and had to remind him to back off. I let him know that I will choose my fly, I will tie my fly on, I will tie on new tippets and I will use my own flies. Please don't make any suggestions on what to use. The reasons for this is because if I have someone telling me what to use and how to fish, it takes the fun out of me trying to figure things out myself. Isn't that 90% of the reason we fish? We like a challenge! He was pretty good about this. He understood where I was coming from and didn't bother me all day.
TravisA took us to a few hot spots on this stretch of river where we had a blast catching and losing a boat load of fish of numerous sizes. The fishing was great, the bitter temperature combined with rain showers wasn't so great but we managed to have a good time anyway. Here's my dad with one of the many fish of this size we caught. Notice the heavy gear.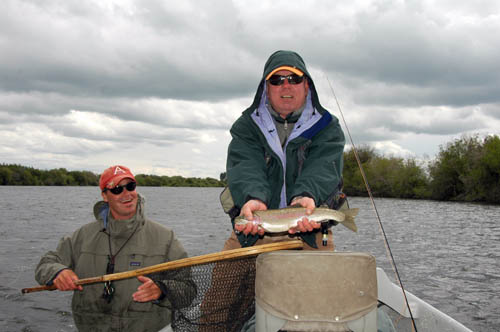 Aside of the little guys, there were many hookups and losses with big pigs too!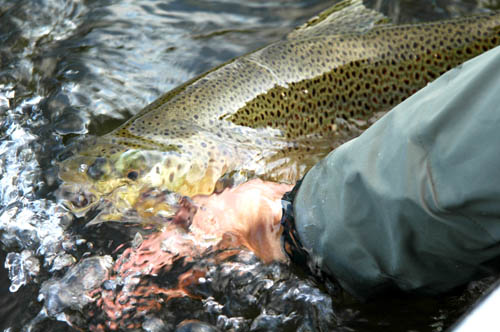 The day remained cold and cloudy but at the end of the float trip, the weather took another turn and the sun came out. I couldn't help but to take a picture of a few signs throughout the trip, so here's the first.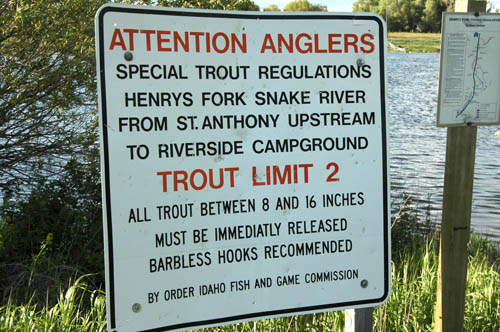 [multipage=Tuesday, June 7, 2005] - My dad and I floated with TravisA again while my 2 uncles both floated TravisB. We all floated the same stretch of river. We made our way down a dirt path and the first thing we noticed were the high rocky walls in what appeared to be a canyon. We started to fish while our guides got the ships ready. TravisA walked the boat upstream a bit to avoid some of the other boats that were in the river while TravisB and my uncles floated down with the rest of the crowd. This access was by far the most crowded. I stopped counting at 12 boats then asked TravisA to get us out of there. We continued downstream where we hooked into more fish than I could count.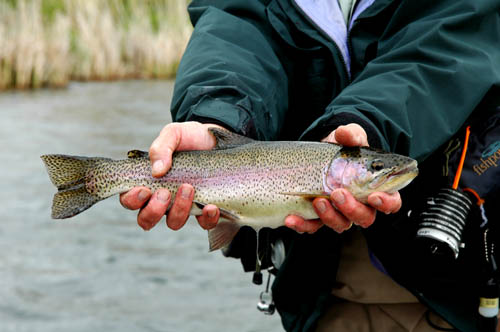 Of course we lost even more but we had a great time in the wind, rain, and snow. We were so cold at times that we did most of the float with gloves on! One thing I noticed was that when we hooked into fish, our guide would follow the fish downstream. That took some of the fun out of the fishing. We asked him to not do that. He claimed that we would boat more fish but I'd rather lose a fish 1/2 mile away that bring it to the boat. Once again at the end of this float, the sun came out and warmed us up. At one point it got so cold I left my streamer in the water and trolled as TravisA rowed our boat. I never thought I'd catch anything but I did, a 13" brown. Later on in the day, right before pulling into the boat ramp, my dad was trolling. He had most of his line out and got a hit. A huge rainbow leaped out of the water from a distance and made a huge splash. As usual, he managed to land the
beamoth!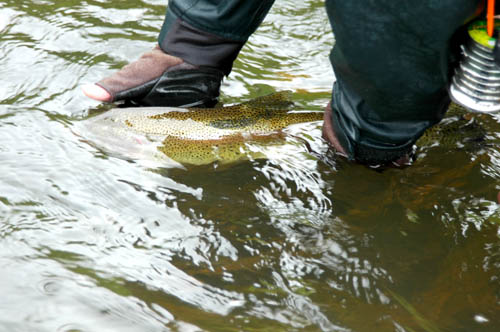 He never ceases to amaze anyone he's with by constantly catching the largest and the most trout.
[multipage=Wednesday, June 8, 2005] - We were issued a new guide as TravisA had a few days off. Today, Uncle Rog and I set out with, Marty 'The One Man Party', so he's known. We discussed where we wanted to float and agreed on the same stretch of the Henry's Fork that my dad and I floated two day's before. The day started off cold and cloudy but cleared up. We didn't let the nice weather fool us though, it quickly became cloudy with rain showers then sun then clouds with more showers then.... Upon arriving at the falls,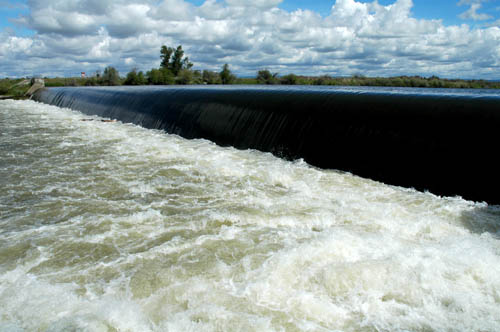 Marty proceded to rig a few rods up for Uncle Rog. Once finished, he moved over to my rods. Before he touched them, I nicely explained to him my preferences and he left me alone for most of the day. Before hitting the river, he gave my uncle a few tips on how to successfully fish the river with nymphs, until the dry fly action started up.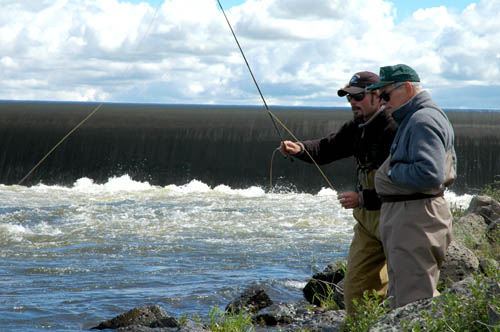 I had to ask him to back off the bank a few times because I could literally touch the overhanging shrubbery and tree branches with my rod tip. As for Uncle Rog, the quick tips paid off. Before we knew it, we were into nice bows. Uncle Rog was using his nymph rig and I was using various nymphs and streamers. We fished this way off and on for most of the day while occasionally switching to dries when we spotted rising fish.
Payday for Uncle Rog!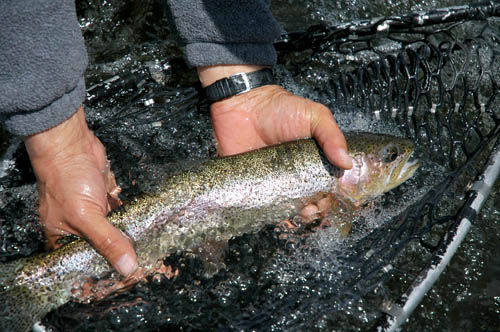 We spotted numerous fish rising throughout the day. Making 60 foot casts to rising fish was awesome. There's nothing like seeing a fish take your fly off the top from a distance. We approached one area where we spotted a huge rising brown in the middle of some shrubbery. It looked like an almost impossible cast but Uncle Rog managed to get his fly in there somehow and the brown took it, what a site! Unfortunately, he lost this one but it was just as exciting to see him get his fly into an almost impossible place and see this brown gulp the fly down. We each proceeded to catch many beautiful bows!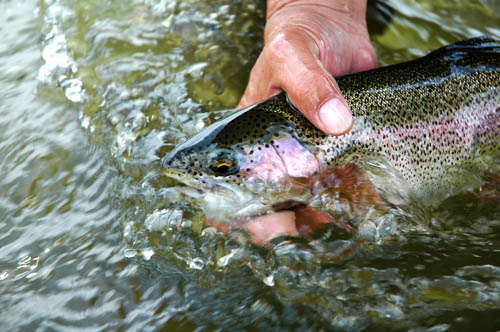 At one point, our guide asked me to try out a size 4 stimulator. 30 feet or so from the bank, I had my stimulator landing on rocks. This was pretty exciting. As the fly dropped off the rocks, the big browns were there waiting! They had their noses facing the banks, just waiting for something to drop in. What a blast! At one point, I lost one of the browns and Marty says, "If we were closer, you would have had less line on the water and landed the fish". That kind of ****ed me off because I told Marty before we got in the water that if I lose fish at 30 or 60 or 100 feet away, that's part of the game and part of the excitement for me. I didn't care if I landed the damn fish, I was happy with seeing them come up and taking the fly. The experience today was overall another great one. We were into fish all day long.
Before I continue on, all but one of the two days I floated with my dad, he joined the Trout Hunter 20" + club. I don't know how he does it, but he somehow catches all the big fish! He earned 4 TH 20" pins in all!
[multipage=Thursday, June 9, 2005]- We met up in the morning, had breakfast then met up with our guides. It was Uncle Rog and I again, along with TravisB. We headed out to the Box Canyon in search of more great bows and browns. When we arrived, I couldn't help but to notice the big sign, "Local Weather conditions change fast.... blah blah blah" well, here it is: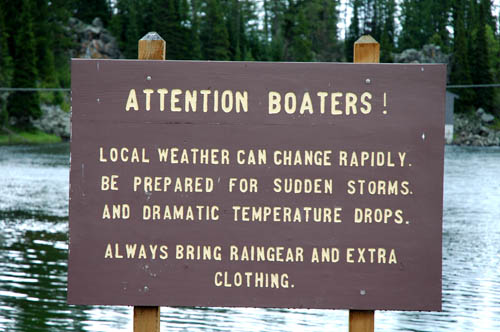 The sign didn't lie! The temps dropped and raised again throughout the day. We were rained on and had hail the size of little marbles fall upon us.
At the doc, there were a few risers which I gracefully laid out all of my line for and hooked up with a few nice 12-13" bows. I love it! After TravisB put the boat in the water, he came over and demonstrated his fine casting ability. He's got nice tight loops and is accurate as one can be. After his demo, we hopped in the boat and started fishing a nice deep pool but nothing was happening so we moved on. The Box Canyon is as nice as you would imagine a Canyon would be. For the first hour or so, the fishing was slow. We did catch an osprey up in a tree, so we pulled over and watched him for a little while. I'd show you a photo of one, but it wouldn't do any good to post it; you'll see why later. In the mean time, here's a photo
of a hawk.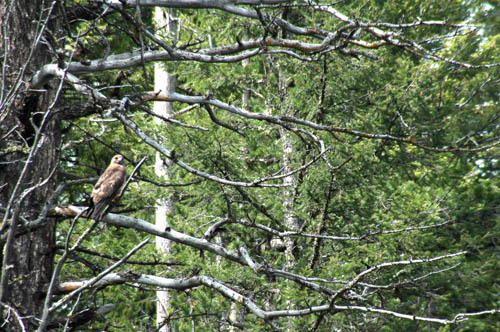 I apologize for the quality but with the boat rocking and my lense in poor shape, this was the best I could do.
Shortly after spotting the hawk, I hear TravisB shouting... woah woah.... Well, he wasn't excited about rising fish, he was looking at my T&T 8'5" vector being bent to the extent of snapping in half. Somehow my fly got lose by his oar and got stuck on a rock. Bye bye rod. As you can imagine, I wasn't too happy for the remainder of the day. I'm not sure if I can place any of the blame on TravisB because I didn't see what happenend. Although an obvious accident, this disrupted my day in the worse way. I still had my dry fly rod to work with though. After pulling over and eating lunch, I took a walk downstream and noticed some little fish rising on the opposite side of the river. I made my way back to the boat and we made our way over to the rising fish. They were all 5-6" fish. I hooked into a few browns, bows, and brookies, all wild in this stream. They were fiesty little fish and at 6", I would prefer to catch them then any fish in any stocked river.
I found that this day was the least productive as far as size and numbers and overall experience. I was really ****ed off about my rod, luckily I brought 3 rods with me and the rest of the trip went well.
Later on that evening while eating dinner, Rich (partial owner of Trout Hunter) came over and introduced us to Rene Harrop, (Writer, Artist, developer/innovater of CDC based flies, and also partial owner of Trout Hunter). I believe you could say that he's the Al Caucci of the west. My dad was so thrilled with the experience that he had me run back to the room to get the camera!
They seemed to hit it off fairly well!
The evening ended with a splendid sunset in back of the lodge. It was one of the only nights we got so see the western sky look like an artists canvas.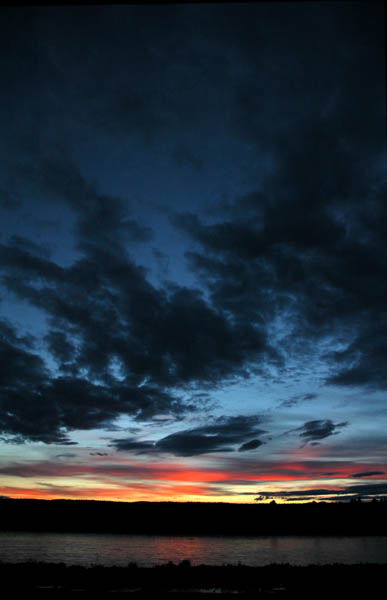 [multipage=Friday, June 10, 2005] - I woke up extra early to try to get a glimpse of what was left behind the night before. I took the camera out and started shooting away. By the way, about 900 pictures were taken on this trip! For now, you'll only get to see a few of them.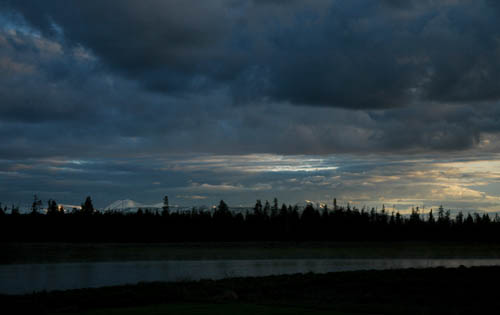 I really like how the sky appears to be on fire in this next photo.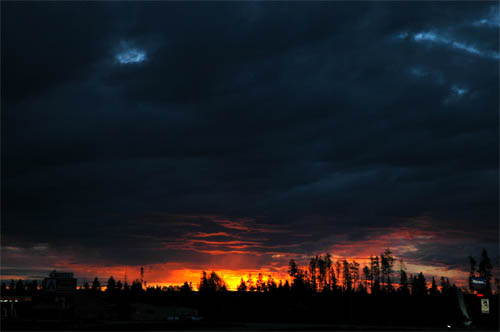 Later on that morning, we did the usual routine, breakfast, met up with yet another guide, Braide (Brady), and finally, it was my turn to hit the water with my Uncle Felix. My Dad and Uncle Roger decided to do the same float where we would meet up at various times throughout the day. Once again, I went over the game plan with Braide and he was perfectly ok with me handling myself and left me alone for the day. On the way to the ramp, Brade recommended we see the falls (Messa falls?). I was ok with that. Well, I'm glad I let him take a second to talk me into it because I had some of the most breath taking views I've ever seen! Once the river was in view, with every step I took forward, another one of natures awesome creations and abilities was within an eye's view. The sun was bright this morning which allowed for a brilliant rainbow to shoot out from the falls and seem to disappear into the mountain. The following are just a few pictures I captured of the falls and the area.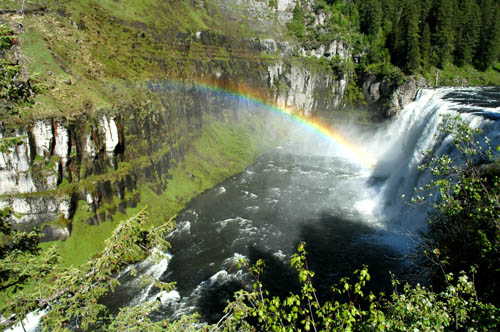 One thing that amazed me was the power that appeared to be generated by the water flowing over the falls.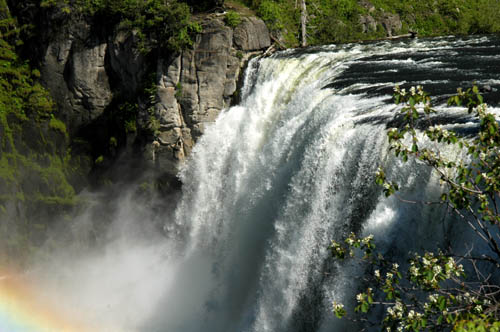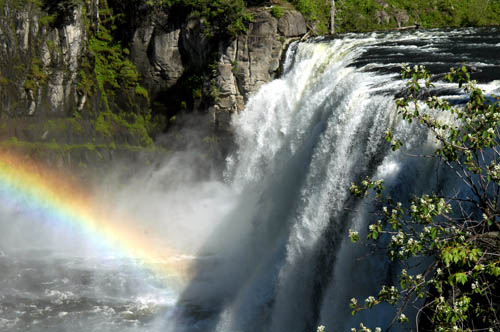 I had to include at least 3 pics of the falls because with each angle, I believe something different was captured. My Uncle came down to take in the view, but his attitude was a little less enthusiastic than mine. He said, "If you've seen one, you've seen em all." Well, this is the first one like this that I've seen and I was pretty excited. I turned around for another minute to get another glimpse of something I may never see again and before I knew it, Uncle Felix was nowhere to be seen. I was down there soaking in the views for so long, I thought for sure the coast guard would have had a helicopter in there looking for me. I eventually made my way out, but not beffore taking over 100 photo's.
We made our way to the boat launch where we met an older woman (70's) who lives in Miami and travels the US and Canada by car for 6 months out of the year in search of trout! She joked around with my Uncle Felix and asked if he was retired. When he answered 'Yes', she asked him to jump on board to tour and fish with her. He declined but wished her well on her journey. This woman
made her stop on the Henry's fork before heading out to British Columbia. Good for her, she's taking advantage of her golden years and using the time searching for trout!
Heave ho; We launched the boat and started our float. I believe Uncle Felix was using a size 14 Adams and I was using a size 14 Caddis. We landed a few handfulls of 8-12" fish for a few hours. At one point, we saw an osprey with a nice sized trout in it's claws. The Osprey circled over us and with each pass he flew higher and higher. The guide explained to us that the Osprey was showing off his catch and would leave once he was satisfied that he's impressed us. A few minutes later, another one flew down and scooped up a trout just downstream from where we were standing. I was able to capture this guy on film! The image will be uploaded because it was taken from so far away that I'm afraid you won't be able to see it clearly. He too circled around us for a few minutes before flying off to eat.
Shortly afterward, we set out to search for more trout. There were rising fish all day and the weather remained moderate which made the fishing a nice change from the snow, hail, rain and wind that we'de experienced the previous days. We did have some rain mixed in with heavy winds at times, but it never lasted longer than a minute or two. It was strange because every time we would put our rain gear on, the sun would come back out and heat things up. Once the sun gets behind the clouds, the temperature suddenly drops 10 degrees or more.
After the float, we headed back to the lodge where a quick storm just passed. I want to show the following photo for those of you who have never been out west to experience weather patterns like the ones we've experienced.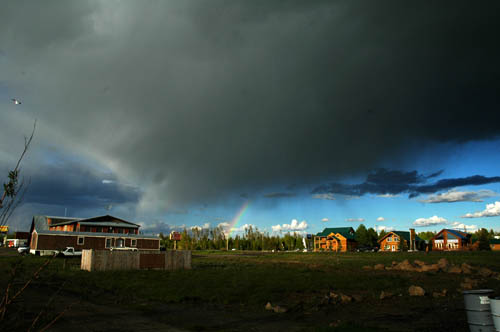 During dinner, we discussed what to do on Saturday, June 11th. We've run out of floats and wanted to try something a little different. We all decided on the Madison River in Montana. It's roughly a 45 minute ride or so from the lodge. We called Linda B and she agreed to pick us up at 8:30am in the morning.
Later on that evening around 10pm or so, right before dark, I fired off a few more shots with my Nikon d70.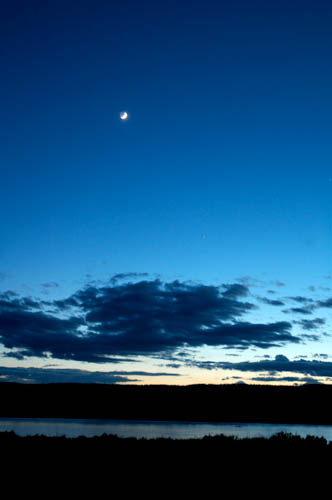 [multipage=Saturday, June 11, 2005] - This is our final day of fishing. We set out around 9:00am to conquer the Madison River in Montana. We had from 10:00am or so until 3:30pm to fish. On the way there, we passed by some of the most beautiful mountain ranges. This is where I kick myself in the ass, and feel free to help too. I had some water spots on the lense as well as a new scratch. I don't put a cap on my lense's while on the river because if I have to take a quick shot, I wanna make sure there are as few obstacles in the way of getting the best shot. I'll stick with posting the pics that don't have these horrible spots on them.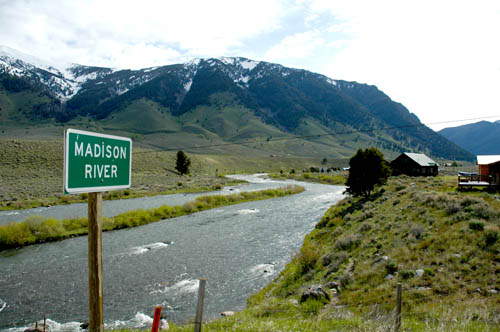 I followed my dad downstream. He's been on the river before and knows it like the back of his hand. I think he pulled fish out of each and every hole he dropped a line into.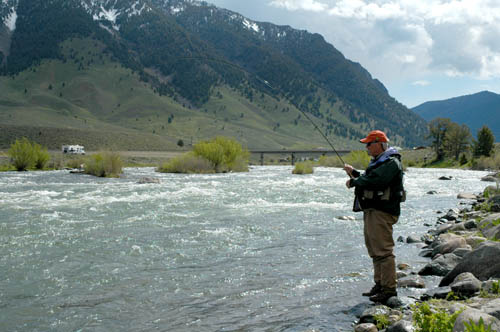 Every time I turned around, there he was with another one.
I had my share of fish as well but it seams as if I'm the only one with a camera around my neck at all times and I don't typically take shots of myself. However, here is a shot of a nice bow I caught while fishing the Madison: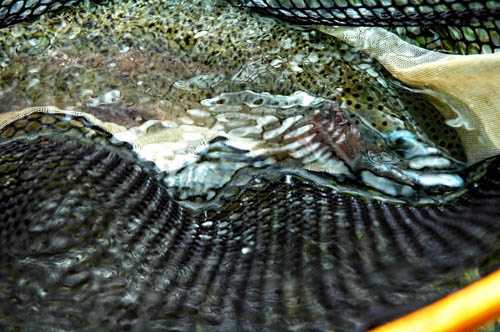 Between the two of us, we must have caught everyfish on the left side of the river looking downstream for about a mile. I had a few take me midway across stream, leap out of these super heavy rapids, and disapear into the whitewater. One fish I'll always remember was a big brown. I'd have to say he was as long as my arm. I hooked him, he took off across the stream, then downstream, then I decided to following him downstream. Before I knew it, I was into my backing and that was the end of him! That's awesome, and that's the kind of stuff we'll remember about our trips! We had so much fun on the Madison river catching fish and long line releasing them into nomans land!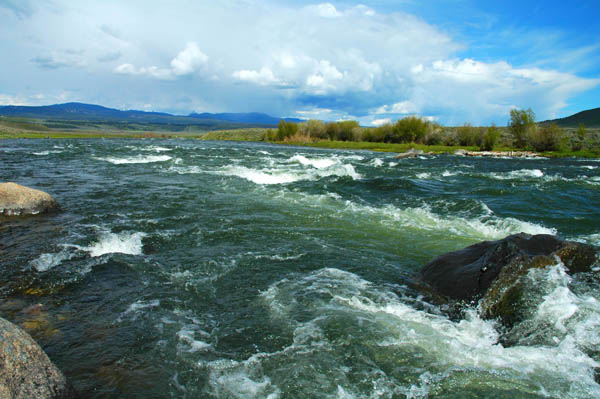 This water is sick but if you fish it, you will find some of the greatest trout in the world!
Fishing our way back upstream to the bridge where Linda dropped us off, I looked up and spotted not 1 but 4 bald eagles flying around. Now I'm in a bind because I have my line in the water and need this shot. What to do? I place the rod under my arm and try to get into position. Being that the autofocus on this particular lense is shot, I had the camera set for manual focus. As I looked up again, one was headed toward me. I pointed the camera, hoping it was in focus, and this is the best I could come up with.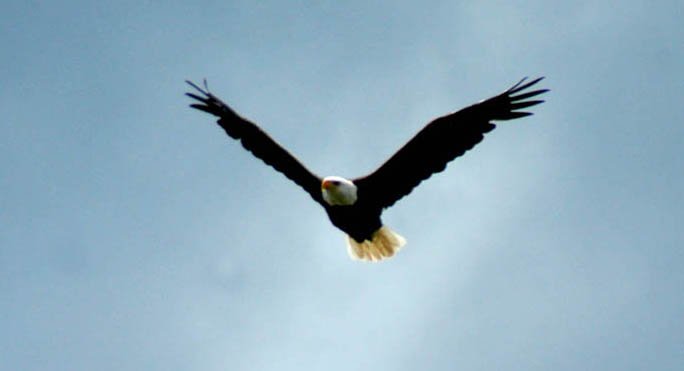 One of these days I'll get the right shot of an eagle!
We met up with my two uncles on the way back, they moved about 3 feet from the bridge but claimed to do ok. Both uncles managed to catch 25" trout while they were alone, by the way, I got a hole in 1 the other day. Uncle Felix said his 25" didn't fight. He was disapointed that the fish ran him upstream, then downstream, then to the other side of the river, then back upstream before finally being landed. I'm not quite sure what he was expecting for a fight, but that sounds like the fight of a lifetime to me. I don't get it.
3:30, Linda was waiting. We would have liked to stay a few extra hours, but we skrewed up on the time. That didn't matter, my father and I decided we weren't stopping there. We had Linda drop us off about 1/2 mile upstream from the lodge. We walked another 1/2 mile or so to search for heads. My dad walked ahead of me another 1/4 mile or so and I sat on the bank and watched the water. There were 2 other fishermen between my dad and I, and they were also sitting patiently waiting for something to happen. I watched for a good 20 minutes then thought I saw a head, then another. With the lighting the way it was, I wasn't totally sure of myself though. Another 5 minutes went by and I spotted a steady riser. At this time, the other two guys decided to call it quites. Jeez, had they only waited 5 more minutes! The riser looked like a nice 12-14" fish from where I was sitting so I headed out into the water. As I was entering the water, I could see my father making his way back toward me. I continued to watch the water for a few more minutes then cast my caddis to where the fish was rising. It took about 10 minutes, but I hooked into him! Ahhh, just as I thought, a nice 13" bow. My dad finally made his way back and said he was going back but there was another fish that just started to rise so I invited him in. He said, "NO" but it didn't take long to drag him in. He was also fishing a caddis. The wing was bleached elk hair with an apple body. First cast and he hooked into a bow slightly larger than mine.
Watching the water, we started to see quite a few splashy rises. They appeared to be smaller fish but who cares, we had the entire section of the river to ourselves and were having the greatest time ever. I cast out to what appeared to be another 12" fish and he took my fly. I pulled him in slowly then zooooooooooom... The fish took off like a bat out of hell! This was a huge fish. I don't recall if this one made it to the net but who cares! At this point we were laughing like two kids looking at a playboy magazine for the first time! We took turns casting to numerous BIG fish but landed none of them. Every take we had looked like a small trout until the trout realized it was hooked. These fish were busting our 3x tippets as if they were made of sewing string. One fish I can remember clearly, appeared to merge out of the water like a submarine after my dads fly. My dads rod bent over like a soggy string bean and the fish was lost. Another busted tippet. A few seconds later, the fish jumped out of the water apparently trying to free itself from his fly. The two of us went back and forth for over an hour, long line releasing these fish. It was by far, the most incredible fishing we've ever experienced.
A little over an hour or so, things shut down so we made our way downstream to the lodge and that ended our fishing for the week.
[multipage=Sunday, June 12, 2005]
- Checkout time. During our adventure, we didn't really have to deal with the people in the fly shop, but there's always one person you'll remember for one reason or another. Hell, maybe that's me sometimes too. The counter clerks name is Jon. Jon, in my opinion is a cocky type of guy and he didn't hesitate to let us know it. Snide remarks and just an arrogant attitude. He reminds me of the type of guy who thinks life sucks and it should suck for you too. While this terd was in the shop, we never felt welcomed. As a matter of fact, he appeared to me to be the 'gimme your money' type. A few other people had attitudes as well, but none like this guy.
I asked Jon for my bill because I intended to pay for everything I purchased. They have a tab system going where they bill it to your room. It's definetly not run like the Hilton, that's for sure. Jon gave me my bill and I was confused as to what some of the charges were for. There were flies on my bill, $40.00 worth) that I didn't use. I asked Jon what these fly's were and he said that those were the flies my guide tied on for me. Well now, I have a problem with that! I specifically told each guide that I didn't want their flies or their help tying them on, so how were these flies on my bill? Jon said that's what the guides wrote down and that I was responsible for paying for them. He then went onto explain that as a guides client, you don't realize how many flies you go through in a day. "I know exactly how many of your flies I went through each day, ZERO, because I specifically told your guides that I did not want their assistance". He remained arrogant and tactless throughout our disagreement. I told him, good luck getting the money from me, I'm not paying for them. He then asked, "Well who is going to be responsible for them?" I told him, "I don't care who pays for them, but it's not going to be me." Now, what ****ed me off was that Jon didn't say, "Well let me look into this." He simply insisted that I pay for these fly's that I did not use! He even let me know that they don't make money on the guide trips ($420.00 for a single day float) and that the flies were where they make the majority of their money. Well, that's fine, and I don't have a problem with that, but you can't charge people for flies because you think they may have used them. Then it occured to him after our little disagreement that there are two people in each boat for 5 days! He eventually put the flies on the other bills and explained to me that the guides use flies on the trips. They write down what flies were used but not who used them. If 1 person uses Zero flies but another uses 22 flies, they just figure they'll split that up and each person would be responsible for 11 flies at 2.50 each! That's right, $2.50 each! Let's see, 2.50*16=40 bux. After Jon argued with me rather than remain calm and cool, he never did apologize for being so nasty with me. After I paid my bill, I saw a few other charges on there that looked right, and I wasn't gong to argue with him about them, I just wanted to know what they were. He said in an arrogant way, "Well this is for your guide which you got for less than 1/2 price, and this is for your room which you also got a big discount on." So, I paid the bill in full and this guy is going to throw that crap in my face. Hey, if the owner is not satisfied with the price he's advertising, then advertise a different price, don't hold a grudge on your customers! God damn, this guy ticked me off.
The only other thing that ticked me off was the restaraunt tab. They somehow snuck an added charge on each of our bills, claiming that we shorted the waiters/waitress's some money. As good as the food was at the restaraunt, their billing system is the most unorganized system I've ever seen. It needs to be fixed A.S.A.P. It was only a 6.00 charge (per person, $24 total) which was not worth arguing over, so we just paid it without issue.
Other than that, the rooms were clean and comfortable and had a Satellite TV. You get a great view of the Henry's Fork through the sliding doors, and there's a hot-tub available as well. The restaraunt food was slightly pricey but in my opinion, top notch and worth spending the money on. The fly shop is set up pretty nice but also a little pricier than our east coast shops, and with a shop manager like that, I wouldn't spend another dime in there. Frogs Fanny was 5.95 whereas I believe the price right across the street was 4.95.
We had a great time while staying at the lodge, even with the minor flaws we ran into. The fishing was out of this world, and I believe the guides were top notch. I believe we paid 1250.00 each for the 5 day float and the 6 night stay. If you purchase a guided river trip for 1 day, you'll pay 420.00 for it, and the rooms is $130.00 per night.
Ratings: (5 stars possible)
Overall fishing experience and company? *****
Overall experience while physically at the lodge? **** (Took off a full star for Jon)
Food: *****
Accounting: **
Overall Bang for the buck: ****1/2
To end this article, I just want to say thanks to my Dad for being such a great friend and father. We had a great time and I'm looking forward to getting out west again with him. My time fishing couldn't be spent better with any other company. My uncles are a load of fun, and hopefully they'll also come again.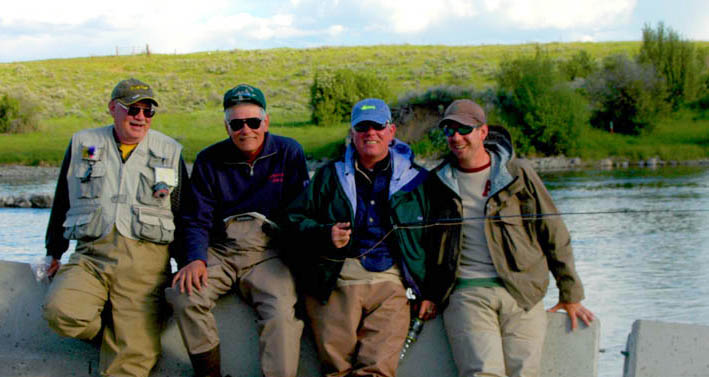 By the way, the article in Fly Fisherman magazine regarding the Henry's Fork.... What a scam, do yourselves a favor and book it now, you won't be disappointed!
Last edited: