I was doing my photography thing for the FUDR one Bug on Saturday. First time since 2019 (due to that covid BS that the terrorists sponsored (You know... Faucci and Crue)).
I really wasn't up there to fish since I need to replace the bearings on my trailer and the conditions weren't supposed to be ideal anyway. That didn't stop me from bringing 10,000 flies and my other equipment. The weather called for lots of rain, wind, and water that would be off-color and too high to wade fish. Anyway, only one of those statements was true. There was zero rain, hardly any wind, and the water was perfect. More perfect than you can imagine... Yes, a little high but hey... can't have everything.
I walked up and down a bank for 6 hours, lugging my fly fishing life with me + a camera with a heavy lens, 1/4 mile this way, then back the other way, all day long. I watched the water for hours and watched countless bugs float past me non-stop for at least 3 hours. Any minute and the trout would start gorging on these bad boys!!! Nope... never happened; not 1 head anywhere, and I'm pretty good at spotting trout. My head is on a well-greased swivel and nothing gets by me. Hey... when you're good, you're good.
I saw a hand full of angles and the common phrase as you all know, "Shoulda been here yesterday".
Anyway, here's what the river looked like yesterday. Ohhh, by the way, my report from last week with regard to the tornado warning. It missed me by 30 miles. It ripped through the center of Trout Town, USA (Roscoe).
The SIMMS guy is Peter Grimbilas on his way to the river.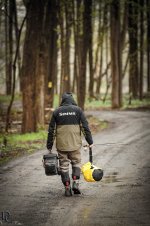 Floaters on the mainstem.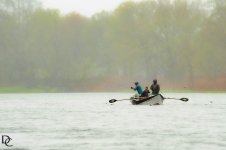 Just a random picture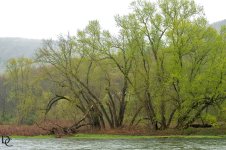 West Branch Angler.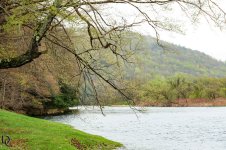 Last edited: