Earlier this week I was asked by,
Chuck Ledgerwood, via email to take a look at one of his home made fly boxes.
So I replied and I asked him if they were unique? When he responded with, "Every box is hand made and the grain of the fly box is unique in every way", I jumped on the opportunity to check them out. You might be thinking, "it's a piece of wood, of course it's unique", but let's face it... so many mass produced boxes look identical so what's so different about this wooden box?
Today's boxes are plastic and have these pretty cool compartments but the downside of owning these plastic boxes is that they offer no character and they're all built from 12yr old kids in sweat factories. Yeah ok, I'm guilty of owning a few of these boxes but for good reason. They are quite functional and fairly compact. These boxes do come with a pretty stiff cost though. Here's a C&F Design box that retails for $25.95.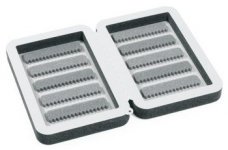 Hey look.. I love the C&F boxes but the fact is, it's 25.95 for a piece of plastic molded by a machine and assembled overseas. It probably costs them under $5.00 to deliver this box.
I have more fly boxes than I know what to do with so when Chuck offered to send a sample box I thought to myself, "I hope this is a little different than all the others I own." I don't use the wooden boxes because they are generally bulky. I don't like bulk so I leave them at home.

Chuck started in 1996 making fly boxes from exotic wood. He wanted a box that brought a "grass roots fly fishing experience" then set out to do just that. The other day, I received a somewhat small package in the mail and thought it was a bit small to be a fly box. I opened the package and sure enough inside was a beautifully handcrafted fly box. I really wasn't expecting this. I was expecting something considerably larger just like all the others.

So check this box out and let me know what you think.

(Click to Enlarge)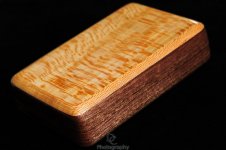 The other positive about this box is how it's designed on the inside. Such a simple concept and very functional. The insert (the one without the flies) is removable and can be replaced with a new one in a matter of seconds. This allows for the option of a quick change, just like the plastic boxes offer..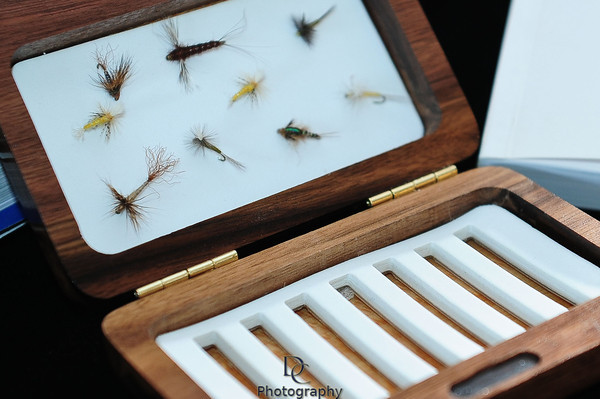 The box is very light weight and will be a very functional fly box. The "Premium" line of boxes are made from exotic wood and the build quality is solid. There are a few models of the "Premium" fly box and they're all under $50.00. Remember, this is a hand made box. It's crafted and assembled by Chuck.
The hinges are brass and there is a magnetic insert which keeps the box closed.
Other than everything I've mentioned here, the box is aesthetically pleasing with its duo tone wood combination and brass hinges. If you open the box and sniff the inside you'll notice that it has a really nice smell to it.
The boxes are available in different sizes and the prices vary.
Chuck doesn't just build and sell fly boxes though, check out Chucks website at
Prize Catch - Wood Fly Boxes, Bamboo Fly Rods, and Landing Nets
. If you place an order, let him know we sent you!
Any questions about the box, feel free to ask.
Last edited: