I traveled to the upper reaches of my favorite river this morning as I knew the water temperatures would be good. This coupled with the fact that they were dumping some water from the reservoir and the thunderstorms of yesterday brought the river up to fishable levels.
The idea was to start off with some flashy dry fly attractor to see if I could coax any of the holdover rainbows in that section to show their heads. I fished a few different patterns such as a Yellow Humpy, Royal Wulff and for the holiday, a Patriot. Well I got zero interest in the first hour of fishing so I opted to go below with some nymph patterns.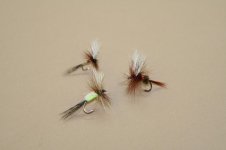 The pattern I tied on first was my anywhere, anytime, go-to purple ribbed jig nymph with an orange hot spot behind the copper bead. Well that pattern did not disappoint as I was into fish almost immediately. There are just scads of holdover rainbows in that section, along with good numbers of solid wild browns and a few wild brookies.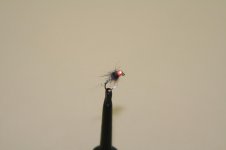 At some point I decided to do a little rock rolling to see what bugs were present in that section of stream now. There were but a few mayfly nymphs to be seen, unlike the large stonefly nymphs that were under just about every rock that I turned over. It was then that I decided to change up my fly selection to a rubber leg stonefly that Dave Hess of Tight Lines showed me a couple of years ago.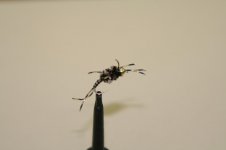 This fly also proved to be very productive and also seemed to be more favored by the larger browns.
Here is a sampling of a few of today's fish.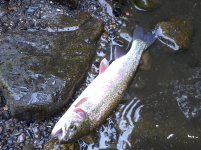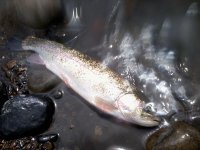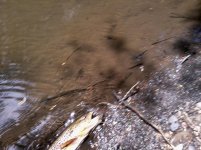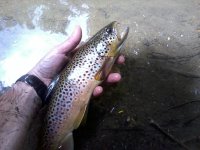 I didn't get a pic of the brook trout for the trifecta, however here is the surprise of the day that made for the +1.
Quite a scrapper that also liked the rubber leg stonefly.