Just a lucky soul,enjoying God's gifts to us.
,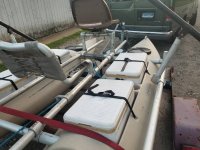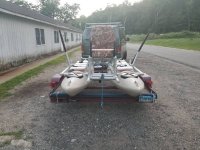 I think I'm a boat hoarder. Lol. I already have 2 drift boats that hardly
ever get used due to my crazy schedule even though I have the Susquehanna right in my front yard and the West Branch a few minutes away. I found this on Craigslist and thought it was pretty cool . I actually paid for it a few weeks ago, but picking it up this weekend .
I never seen one before. It's basically a cataraft/ pontoon boat but with rotomolded kayaks ( bi-yaks)as the pontoons. It's definitely a drinking mans vessel , it comes with 4 built in coolers! Lol. I think they only made them from 1999 to the mid 2000's. It's called a Bi-Yak Guide boat, it seems pretty tough and sturdy and hard to destroy, good for low water conditions , or when your brother in law wants to borrow
A boat and you don't want him to smash up your fiberglass drift boat lol!
The person I bought it from is a pretty cool guy, was a guide on the West Branch years ago, lives in Ct. now and fishes a lot for Stripers etc. He builds wood drift boats too and paints incredible
Wildlife / Fly fishing oil paintings which is his main source of income
Now after beating cancer, and shutting down his antiques business.He's down sizing
For an eventual move out West , that's why he put this up for sale.
We're planning a trip together this spring on the Delaware.
I like the boat, but hate the name "Bi-Yak" , they could
Of picked a better name. I'm going to add a diamond plate floor
And front and back casting braces and a new rowing seat and should be good to go . I just bought the boat , not the trailer, I already had a trailer for it. It comes with 3 cataract oars too . I was talking with Dave from Project healing waters at the Edison show and hope to put together a trip or two this year if I can. Something I've wanted to get involved with for a while, have to find the time this year.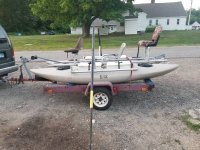 Last edited: