The Hendrickson mayfly (
Ephemerella subvaria)
is named after, James E. Hendrickson, a long-time friend of, Roy Steenrod, the angler who first discovered the Hendrickson hatch on the Delaware River. Hendrickson and Steenrod were fishing on the river one night when they noticed the mayflies hatching in large numbers.
Hendrickson caught one of the mayflies and gave it to Steenrod to study. Steenrod then used this mayfly to create the fly pattern that we all know and love as, The Hendrickson or as some may call it, a "Hendo". Typically, Hendricksons start in mid-April and the hatch lasts about 2 weeks. For many, this mayfly hatch starts the beginning of our fly fishing season on the East Coast.
One of my favorite patterns for this fly (Tie it yourself, They sell for $3.95 each).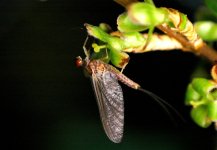 Last edited: