1; ​This is a typical Baetis or BWO mayfly. They range in their body color from pale olive to dark olive. Sizes most commonly fished are; # 14 - # 18 and smaller. They are from the swimming group and can live in all stream conditions.

Their water preference; is softer slower waters like pools, flats,
&
lakes. They swim as a larva to the surface and split their and shuck on the surface film. Because they swim around as a larva and have huge populations I often even without a hatch going on for them fish a # 16 BWO wet fly till the hatch begins then switch to a dun. Hatch time start in my area in the second week of April through end of October with various sizes and species.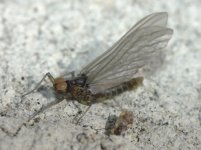 ------------------------------------------------------------------------------------
Last edited: